Top CIO unveils cloud computing storefront in push to reduce IT costs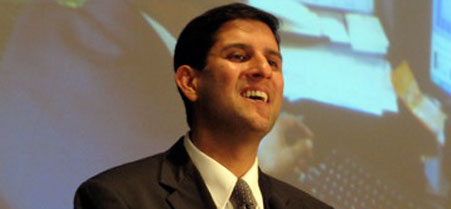 Federal CIO Vivek Kundra said the fiscal 2011 budget will contain guidance for agencies. Flickr user Wordbiz
Federal agencies should prepare to begin shifting their information technology systems by next year to the cloud, where outside vendors operate and service infrastructure and applications, according to federal Chief Information Officer Vivek Kundra.
Speaking on Tuesday at the unveiling of the General Services Administration's cloud computing storefront Apps.gov at NASA's Ames Research Center in Moffett Field, Calif., Kundra said the White House is moving forward with its plan to emphasize cloud computing as a cost-saving measure for federal agencies. He said the fiscal 2011 budget will contain guidance for agencies about incorporating cloud solutions.
Kundra laid out a three-part strategy for deploying cloud computing: Use Apps.gov to simplify the acquisition process, provide budgetary incentives, and centralize the security certification process.
He acknowledged that satisfying security and privacy concerns would be the biggest barrier to adoption of cloud solutions and said agencies that deal with less sensitive data should shift to the cloud first. The government would continue to own and operate systems that manage classified or sensitive data.
"There are legitimate concerns around security that the government didn't try to address historically; they accepted that security couldn't be addressed" in the cloud, Kundra said. "We're now addressing those issues, and we want industry to rise to the occasion."
GSA said it will work with agencies to streamline the process for security certification by encouraging them to accept certifications for low-risk systems from other agencies. The reciprocity should prevent vendors from having to re-certify the same system multiple times.
Kundra repeatedly cited the proliferation of data centers as evidence of the need to move to an infrastructure as a service model, where agencies pay vendors to maintain, operate and update servers at a remote location. Under such an arrangement agencies pay only for the server time they use, rather than allowing their systems to run constantly.
"We have to get out of running infrastructure and move to solving problems and procuring technology that makes sense," Kundra said, citing rising electricity costs and underutilization of servers as two drawbacks to data centers.
The storefront is designed to mimic the buying experience offered by commercial Web sites like Amazon.com, where users can purchase items or services with just a few clicks. The initial version of the site offers four types of applications: business, productivity, social media and cloud IT services. The cloud IT menu includes four categories: storage, software development, virtual machines and Web hosting.
Most of the storefront's products and services already are listed online through GSA's eLibrary and Advantage programs, said Ray Bjorklund, chief knowledge officer at the consulting firm FedSources in McLean, Va. He noted the social media offerings are new and the site's layout, which divides applications into categories, is an improvement.
None of the cloud services are available yet. Kundra said more offerings would be unveiled in the future, and vendors will include Microsoft, Adobe, Amazon and Salesforce.com.
"By offering a centralized storefront for cloud solutions, GSA will help facilitate innovation and efficiency across government while reducing the cost of government operations," said GSA Chief Information Officer Casey Coleman. "Through Apps.gov, GSA can take on more of the procurement processes upfront, helping agencies to better fulfill their missions by implementing solutions more rapidly. We will also work with industry to ensure cloud-based solutions are secure and compliant to increase efficiency by reducing duplication of security processes throughout government."