Cyber and AI investments could trend up in defense spending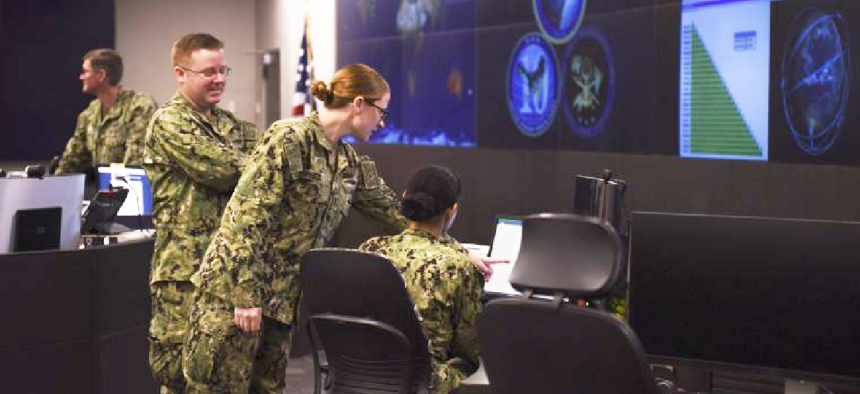 Investments in cybersecurity and artificial intelligence efforts will likely continue to increase as overall defense spending remains flat in future years, but a worsening pandemic could dampen those projections, according to new analysis from the Professional Services Council's latest research on federal budgets.
The Defense Department is largely expected to keep pace with current budget levels, potentially seeing very modest 2% growth to topline budgets, PSC's report projects. That trend could also extend to IT modernization efforts.
Senate Appropriators weighed in today on 2021 spending, proposing a $696 billion defense budget, slightly above 2020 levels and slightly below the Trump administration's funding request. The House passed their funding bill in July at $694.6 billion.
Greg Lobbin, a contractor who helped put together the PSC research, broke down tech spending forecasts in a Nov. 5 call with reporters, saying the defense IT budget could see a 2.2% growth, year-over-year, through 2026. The report tracked a 4.4% growth in past spending levels, $36.9 billion in 2019 to $38.8 billion in 2021. Levels peaked in 2020 at $39 billion. (Classified spending was not included.)
PSC's 2020 Vision Forecast report, which was released Nov. 9, also indicates that cloud spending will stay flat while artificial intelligence efforts, predominantly machine learning and robotic process automation tools trend up.
Additionally, cybersecurity could grow about 3%, partly due to the initial rollout of the Cybersecurity Maturity Model Certification program, as DOD heightens its focus on supply chain risk management.
Lou Crenshaw, who leads Crenshaw Consulting Associates and chairs the Vision conference's defense team, expects another continuing resolution to carry through Dec. 31, and that a 2% spending cut from the defense topline could happen. However, those funds would likely get reinvested in other non-defense efforts. Things would worsen should overall spending in the U.S. drop amid a worsening pandemic and more severe economic hits.
Election won't stop OTA use, acquisition reform
The Defense Department's use of other transaction authorities to speed prototype development and fielding has practically doubled over each year. That trend is expected to continue along with efforts to streamline DOD's acquisition practices.
OTA use, while DOD is the biggest user of them, they only account for less than 3% of total its spending, Alan Chvotkin, PSC's executive vice president and counsel told reporters. The vast majority of those OTAs (80%) are awarded to traditional companies, despite often being touted as a way to bring in smaller, non-traditional companies. PSC used observational methods as well as data from the Federal Procurement Data System to assess OTA use.)
"Most of these are obviously in the research and development leading to production, and so the impact on the services, the totality, is still pretty small," Chvotkin said. "But it's worth continuing to have that oversight and our review of them."
He pointed out a continued criticism of OTAs is that the process is not applied evenly across government acquisition.
"If you can have a segment of the marketplace that's not subject to the FAR based rules, why can't we make everybody not subject to the FAR based rules," he said, "and if we can streamline the acquisition process through OTs to accelerate awards why can't we apply those lessons learned to the regular FAR based contracts."