The 2020 Federal 100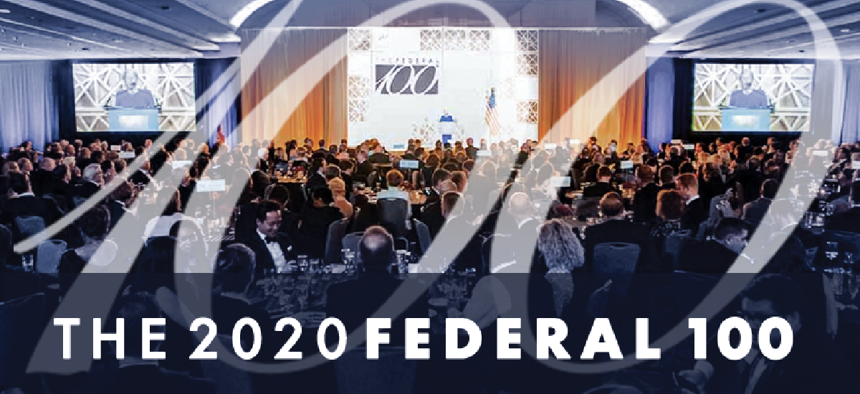 The power of the individual informs FCW's coverage each and every day, but with the Federal 100, we take time to really spotlight and celebrate it. The women and men listed here are proof positive of what one person can make possible in federal IT; click on any name below to learn more about that winner's accomplishments.
Note: Winners' affiliations in this list reflect where the accomplishments being recognized took place. Several individuals have since changed jobs; those moves are noted in their individual profiles.
Combiz R. Abdolrahimi
Emerging Technology and Innovation Leader, Government & Public Services
Deloitte Consulting
Gundeep Ahluwalia
CIO
Department of Labor
Dr. Mohamed N. Ahmed
IBM Distinguished Engineer, Master Inventor, AI Chief Scientist & Director, IBM Federal
IBM
Gerard Badorrek
Chief Financial Officer
General Services Administration
Bo Berlas
Chief Information Security Officer
General Services Administration
David J. Berteau
President and CEO
Professional Services Council
Alexis Bonnell
Chief Innovation Officer
U.S. Agency for International Development
Tom Brandt
Chief Risk Officer
Internal Revenue Service
Jason Brown
Director, CSAF Strategic Studies Group
Department of the Air Force
Jordan Burris
Chief of Staff, Office of the Federal CIO
Office of Management and Budget
David Catanoso
Director, Enterprise Cloud Solutions Office, Office of Information and Technology
Department of Veterans Affairs
Anil Cheriyan
Director, Technology Transformation Services and Deputy Commissioner, Federal Acquisition Service
General Services Administration
David Chow
CIO
Department of Housing and Urban Development
Cecilia Coates
Managing Director, Program Management and Policy
Department of State
Judith A. Conklin
Deputy CIO
Library of Congress
Timothy W. Cooke, Ph.D.
President and CEO
ASI Government
Lisa Costa
CIO, US Special Operations Command
Department of Defense
Jennifer L. Edgin
CTO, Deputy Commandant for Information, Headquarters Marine Corps
U.S. Marine Corps
Neil C. Evans
Chief Officer, Office of Connected Care, Veterans Health Administration
Department of Veterans Affairs
Rebecca Fair
CEO
Thresher
Gerard A. Fasano
President, Defense Group
Leidos
LTG Stephen Fogarty
Commanding General, Army Cyber Command
U.S. Army
Christine L. Gex
Innovation and Robotic Process Automation Lead, Office of the Deputy Assistant Secretary of the Army Financial Information Management
Department of the Army
Donnie Harp
Director of the Integration Services Directorate, HQ Cyberspace Capabilities Center (CCC)
Department of the Air Force
Steve Harris
Senior Vice President and General Manager
Dell Technologies
Debbie Hren
Transition Director, Office of Telecommunications Services
General Services Administration
Daniel C. Ireland
Enterprise Architect, Naval Surface Warfare Center (NSWC) Crane
Department of the Navy
Holly S. Joers
Interim Deputy Director, Federal Electronic Health Record Modernization Office
Department of Defense
Mark Junda
Director, Procurement Service E, Technology Acquisition Center
Department of Veterans Affairs
Suzette Kent
Federal CIO
Office of Management and Budget
Beth Anne B. Killoran
Deputy CIO
General Services Administration
Col. Robert King
Senior Materiel Leader, Enterprise IT and Cyber Infrastructure Division
U.S. Air Force
Mike J. Kirkland
Senior Vice President, Offerings and Solutions Development
Perspecta Inc.
Stephen R. Kovac
Vice President of Global Government and Head of Corporate Compliance
Zscaler
Chris Krebs
Director, Cybersecurity and Infrastructure Security Agency
Department of Homeland Security
Jim Kren
Director, Systems Development in the Concepts, Development and Management Office, Office of the Secretary of the Air Force
Department of the Air Force
Jennifer Kuk
IT Category Management Specialist, Office of Federal Procurement Policy
Office of Management and Budget
Betsy Kulick
CDM Deputy Program Manager, Cybersecurity and Infrastructure Security Agency
Department of Homeland Security
Rep. James R. Langevin
U.S. Congressman
House of Representatives
Stefanie Langsam
Deputy Special Master
The September 11th Victim Compensation Fund
Paul R. Lawrence
Under Secretary for Benefits
Department of Veterans Affairs
Susan Lawrence
Managing Director, Armed Forces Sector
Accenture Federal Services
Naomi Lefkovitz
Senior Privacy Policy Advisor
National Institute of Standards and Technology
David Levy
Vice President, Federal Government
Amazon Web Services
Ellen Lord
Under Secretary of Defense for Acquisition and Sustainment
Department of Defense
Ashley Mahan
Director, Secure Cloud Portfolio and FedRAMP, Technology Transformation Service
General Services Administration
BGen Lorna M. Mahlock
Division Director, IC4, Headquarters Marine Corps, Deputy Commandant for Information
U.S. Marine Corps
Stacy Marcott
Deputy Chief Financial Officer and Acting Chief Financial Officer
Department of Homeland Security
Doc McConnell
Cybersecurity Policy Analyst, Office of the Federal CIO
Office of Management and Budget
Danielle Metz
Principal Director for the Deputy CIO for Information Enterprise
Department of Defense
Terry C. Miller
Chief Operating Officer
Karsun Solutions
Bill Monet
President and CEO
Akima
Drew Myklegard
Executive Director, Demand Management, Office of Information & Technology
Department of Veterans Affairs
GEN Paul Nakasone
Commander, U.S. Cyber Command, and Director, National Security Agency
National Security Agency and U.S. Cyber Command
John B. O'Grady
Acting Director, Digital Services Division, Office of Inspector General
Department of Health and Human Services
Robert Osborn
CTO, Global Governments
ServiceNow
Mamatha Pancholi
Chief Data Officer, Agency for Healthcare Research and Quality
Department of Health and Human Services
Dennis Papula
Chief Business Technology Officer, Program Support Center
Department of Health and Human Services
CDR Tom Parker, PhD
Cyber Warfare Engineer, Naval Sea Systems Command
U.S. Navy
Riya Patel
Program Manager, Government
Dcode
Timothy M. Persons, Ph.D.
Chief Scientist and Managing Director of Science and Technology Assessment, and Analytics
Government Accountability Office
Charlie Phalen
Acting Director, Defense Counterintelligence and Security Agency
Department of Defense
Heather Putman
Product Director, General Funds Enterprise Business System Development & Modernization, Army PEO EIS
Department of the Army
Lt. Cmdr. Michael Pyne
MyNavy HR CIO Deputy Chief Engineer
US Navy, N16
Claire Perez Redondo
Director International Civilian & Military Transportation & Networks - International Ops
USPS
Dave Rey
President, Global Public Sector
Salesforce
Maria Roat
CIO
Small Business Administration
Anthony Robbins
Vice President of Public Sector
NVIDIA
Capt. Kurt Rothenhaus
Major Program Manager, Tactical Network Program Office (PEO C4I/PMW-160)
U.S. Navy
Francisco Salguero
CIO
Federal Communications Commission
Mehul Sanghani
CEO
Octo Consulting Group
Shannon E. Seay
Program Manager, Navy Enterprise Business Solutions Program
U.S. Navy
Bharti Shah
CEO
CTIS
Lt. Gen. Jack Shanahan
Director, Joint Artificial Intelligence Center
Department of Defense
Chad Sheridan
Director, Service Delivery and Operations, Farm Production and Conservation Business Center,
Department of Agriculture
Stephanie Shutt
Director, Multiple Award Schedule Program Management Office, Federal Acquisition Service,
General Services Administration
Gabriel L. Slater
Senior Counsel – Cybersecurity, Cybersecurity and Infrastructure Security Agency
Department of Homeland Security
Anthony C. Smith
Lead, DOD Information Network Transport Capabilities, Office of the CIO
Department of Defense
Paul Smith
Senior Vice President and General Manager, Public Sector
Red Hat
Traci Smith
Program Manager
Department of Labor
Steven B. Sousa
Vice President
CGI Federal
Paul Strasser
President
Brillient
Capt. Veronique Louise Streeter
Acting Director of Command Control Communications and Information, Office of the CIO
Department of Defense
Toni Townes-Whitley
President, U.S. Regulated Industries
Microsoft
Elaine Turville
Managing Director
Accenture Federal Services
Louis W. Uccellini, Ph.D.
Director, National Weather Service, National Oceanic and Atmospheric Administration
Department of Commerce
Donald Upson
Partner
Upson Technology Group
Marc R. Vandeveer
Chief Innovation Officer, Air Force Installation and Mission Support Center
U.S. Air Force
Jonathan Veal
Director - Public Sector
Stardog Union
Peter Villano
Professional Staff Member
House Armed Services Committee
Lt. Col. Stacie L. Voorhees
Commander, 690th Network Support Squadron
Air Force
Mike Walsh
Vice President for Department of Defense, Intelligence Community and Federal Systems Integrator
Forescout Technologies
Gary Wang
Vice President, Cloud, Infrastructure, and Security Services
Unisys Federal
Garth A. White
Chief Information Security Officer, Science and Technology Directorate
Department of Homeland Security
Gary White
Lead Project Manager
General Services Administration
Col. Frederick D. Williams
Acting Director, Spectrum Policy & Programs, Office of the CIO
Department of Defense
Courtney A. Winship
Chief, Digital Services Division, U.S. Citizenship and Immigration Services
Department of Homeland Security
Joanne Woytek
NASA SEWP Program Director
NASA
David Young
Senior Vice President, Public Sector
CenturyLink
Judith R. Zawatsky
Assistant Commissioner Office of Systems Management, Federal Acquisition Service
General Services Administration