Federal Cloud Spending Has Stalled, Report Says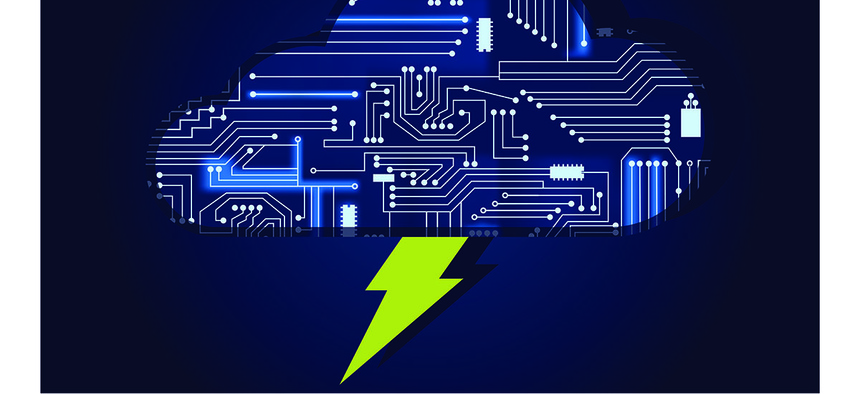 The federal government's spending in cloud computing has temporarily stalled, according to a market intelligence firm.
The report, a four-year forecast through 2021 developed by IDC Government Insights, estimates a drop from $2.6 billion in fiscal 2016 to $2.2 billion in fiscal 2017—a 17 percent drop across all types of cloud solutions.
Shawn McCarthy, IDC Government Insights research director, called the decrease an "anomaly" given the multiyear double-digit growth trajectory cloud had been on. It appears to be a small blip; the forecast predicts federal cloud spending will reach $3.3 billion by fiscal 2021.
» Get the best federal technology news and ideas delivered right to your inbox. Sign up here.
In an interview with Nextgov, McCarthy explained several reasons why cloud spending may dip in fiscal 2017.
The federal IT budget itself is stagnant, he said, holding around $89 billion, and so-called "low-hanging fruit" in cloud projects have mostly been tackled. Email-as-a-service, for example, has decreased in funding each year since 2012.
Enterprise email, storage, websites, calendar functions and similar efforts need only move to the cloud once, and after they are there, the price points in those various markets tend to decrease to remain competitive, McCarthy said.
"The next set of services to go to cloud become more complex," McCarthy said. "The federal government has so much customization that moving it all immediately to cloud is difficult for legacy systems."
In addition, uncertainty promulgated by a continuing resolution and the transition to a new administration may also have played a small role in atrophied cloud spending by agencies.
McCarthy said he expects the lull in cloud spending to quickly recover.
"It's the perfect storm of a lot of little things that, taken together, become more noticeable," McCarthy said. "You've got a lull now and pent-up demand for new solutions. I fully expect cloud to recover."