Author Archive
Frank Konkel
Executive Editor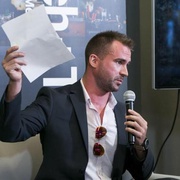 Frank Konkel is Nextgov's executive editor. He writes about the intersection of government and technology. Frank began covering tech in 2013 upon moving to the Washington, D.C. area after getting his start in journalism working at local and state issues at daily newspapers in his home state of Michigan. Frank was born and raised on a dairy farm and graduated from Michigan State University.
IT Modernization
The Pentagon released a draft request for proposal for what is expected to be its largest cloud acquisition to date.
IT Modernization
Amid industry criticism following a $950 million cloud computing contract last month, the Defense Department limited its scope and reduced its size down to $65 million.
IT Modernization
Congress wants the Defense Department to buy technology faster. Now it's beginning to do just that.
IT Modernization
The FBI is asking industry for ideas regarding the adoption of cloud computing.
CIO Briefing
General Dynamics just became an even bigger player in the federal IT space with its purchase of CSRA.
IT Modernization
The bid protest could slow down the Pentagon's cloud acquisition effort.
IT Modernization
The department misspent even more than government investigators initially believed in attempting to modernize its health records system.
CIO Briefing
After a bid protest, AT&T can now move forward on work it will carry out under NSA's classified Groundbreaker contract, worth billions.
IT Modernization
The Federal Acquisition Service has doled out $9 million to agencies supporting the EIS rollout without receiving the required interagency agreements.
IT Modernization
CSRA moves up the launch date for milCloud 2.0, the on-premise cloud computing solution it's building for the Defense Department.
IT Modernization
The group shaping the department's cloud strategy gets a new chair and new faces.
IT Modernization
The department hasn't made a final decision on how many contracts it will award, a Pentagon spokesman said.
IT Modernization
Despite industry criticism, the agency clarified its aggressive cloud strategy will continue as planned.
IT Modernization
The Defense Department intends to award a cloud computing contract next year that could disrupt the entire federal market.
Policy
The Modernizing Government Technology Act—and several other tech amendments—could have an immediate impact on the government's tech landscape.
By

Frank Konkel and Heather Kuldell