The Tech Agencies Need to Supercharge Mobile Strategies and Citizen Engagement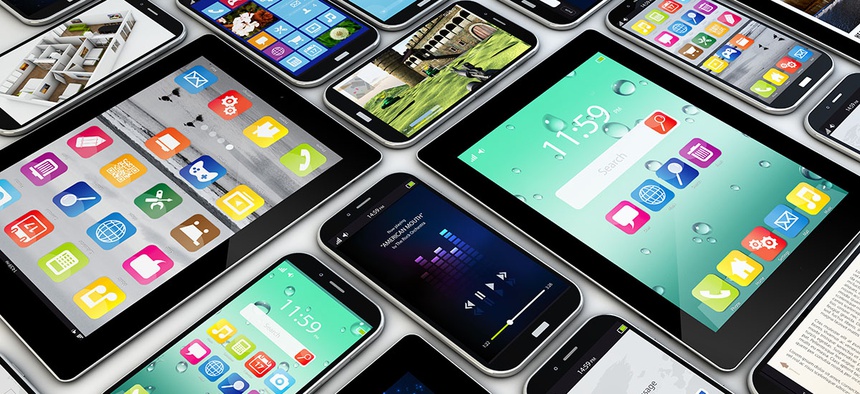 Mike McHugh is president of DMI's Government Digital Solutions Group.
To better serve constituents, agency leaders have been doing some serious thinking about which tools and approaches will create a mobility strategy that meets their goals. To achieve this, they are realizing a mobile-first approach is necessary—and it's not just about checking "create mobile app" off a long list. Instead, it's about focusing on the user's needs and wants to create efficient processes and increase usability.
SMAC technologies—social, mobile, analytics and cloud—are converging in ways agencies must pay attention to. Using these technologies, agencies can accelerate efforts to innovate and create meaningful experiences by designing systems and processes that match citizen expectations. Mobility is not just about managing devices or building apps. The real transformation happens when you have the confluence of SMAC forces.
» Get the best federal technology news and ideas delivered right to your inbox. Sign up here.
Easier said than done, as many agencies still struggle to access, integrate and use all of the data they create and collect.
"We shouldn't be implementing yesterday's technologies tomorrow. We need to move in parallel," said Jim Tunnessen, chief technology officer at the Food Safety and Inspection Service at the Agriculture Department.
In support of the adoption of these technologies, it comes as no surprise the top benefits of this include increased employee productivity, improved citizen experience, operational efficiency, cost reduction and improved services. Let's examine each of the SMAC technologies for further insights.
Socially Motivated
A key element of social media that could be overlooked is making sign-up as user friendly as possible and continuously meshing user habits with trends in technology. Following these three steps will improve citizen engagement in social media:
Access: When citizens are able to connect to government services through real-time responses in social platforms, it quickly connects knowledge from one to many, across cultures and languages.
Participation: Agencies invite user-generated content and dialog on numerous topics that create new insights via seamlessly integrated social touchpoints across all screens.
Transparency: There's tremendous opportunity for government and citizens to work together on issues developing around the corner or around world through social channels using the latest secure tools and practices.
Moving to Mobile
The development of a mobile-first strategy is the next step to success. This can include anything from a responsive web design to a native mobile development for the citizens and employees.
To create the basic foundation for capturing, analyzing and using data, you will need mobile-first hardware. The federal government has dedicated over $300 million to internet of things research. Tablets, virtual reality devices, smartphones, beacon technology, cameras and sensors are all devices waiting to reduce latency and increase operational efficiency. Behind what is making mobile and IoT devices relevant is the data they provide and the insights gleaned from that data.
Analyzing the Data
Now, it's time to shift attention from data management and place it on data science. Open data platforms will be imperative. The combination of social data and the enormous amount of government data will continue to expand new ways of seeing patterns that lead to efficiencies in services. Vast amounts of social media data from multiple touchpoints will enable the federal government to engage and take action to improve citizens' lives. Analytics can not only improve the citizen experience but also the experience of internal employees by helping to improve processes and increase efficiency in the field.
Cloud Services
Because they increase the responsiveness of the system, cloud services are critical to mobile, social and analytics solutions. Cloud hosting is becoming a commodity, but cloud management is not. Consider leveraging container and microservice technologies to achieve agility, resilience and portability. Cloud adoption for the government is predicted to have an annual savings of $10 billion.
Using SMAC for Greater Engagement
The gaming industry, and particularly the wild success of Pokémon Go, can teach government agencies about greater engagement. The mobile game innovation was made possible by combining social, mobile, analytics and cloud to redefine a consumer engagement model. Pokémon Go represents one of those moments when a new technology breaks through from a niche toy for early adopters to something much bigger.
Making Waves to Increase Engagement
Change almost never comes easy. It's hard to turn a giant ship around, and that can be what it feels like to instigate change in a government agency—particularly change of such a far-reaching and initially complex nature.
 "Staff the agencies with people who have the know-how to implement new ideas and solutions with new technologies and empower all members of society to help innovate," Tunnessen said. Bringing in new blood might cause some ruffled feathers, but it's necessary for the success of your digital initiative. You will find out how well your SMAC strategy is working by how often citizens are using the technology created for them and in what ways.