Author Archive
Frank Konkel
Executive Editor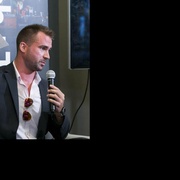 Frank Konkel is Nextgov's executive editor. He writes about the intersection of government and technology. Frank began covering tech in 2013 upon moving to the Washington, D.C. area after getting his start in journalism working at local and state issues at daily newspapers in his home state of Michigan. Frank was born and raised on a dairy farm and graduated from Michigan State University.
IT Modernization
The first center of excellence will be a partnership between the Agriculture Department, White House, General Services Administration and industry.
Data
The intel agency is hacking hiring rules to fill three new digital teams in its quest for data dominance.
Emerging Tech
More than 160 companies bid on the contract but 61 made the cut.
Cybersecurity
An advocacy group is suing the EPA over an open records request regarding employees' use of the application Signal.
Emerging Tech
This ebook looks at how agencies are baking customer experience into their missions.
CIO Briefing
First, avoid vendor lock-in, the industry group said.
IT Modernization
The company is able to host government data in the cloud at unclassified, sensitive, secret and top secret classification levels.
Policy
Congress passes the Modernizing Government Technology Act as part of the defense authorization bill.
By

Frank Konkel and Heather Kuldell
CIO Briefing
Contractors filed fewer contract protests for the first time since 2013.
Policy
Getting a warrant before searching through information collected under Section 702 authorities would be burdensome, the attorney general told lawmakers.
CIO Briefing
The new metric on software licensing knocked many agencies' grades down.
Policy
Though lawmakers revised the so-called "Amazon amendment," only a small number of companies could provide the government with an e-commerce site.
IT Modernization
The government doesn't always do a good job explaining what it wants.
CIO Briefing
The legislation awaits a markup from the House Oversight and Government Reform Committee.
CIO Briefing
But not all the federal IT amendments made it through.
By

Frank Konkel and Heather Kuldell
CIO Briefing
Bells and whistles are great, but they don't matter if they aren't helping customers, Veterans Affairs Department's Lynda Davis said.
IT Modernization
The second part of the National Security Agency's Groundbreaker IT is on hold.
CIO Briefing
John Zangardi was serving as the Defense acting CIO.