Author Archive
Caitlin Fairchild
Web Producer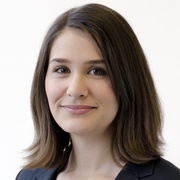 Caitlin Fairchild joined Government Executive in summer 2011 as an editorial fellow, after graduating from the College of William & Mary, where she spent four years writing for the student newspaper, The Flat Hat. In March 2012, she was hired full time as a web producer. She has completed internships at Washingtonian Magazine and at the public affairs office of Nellis Air Force Base in Las Vegas.
CIO Briefing
Tech companies spent a lot of money lobbying in 2017.
Emerging Tech
Almost everything can be recycled. Even that mysterious cord that goes to nothing.
Emerging Tech
The company is continuing its apology tour for intentionally slowing down phones.
Emerging Tech
The company hopes to create more reliable connectivity for international customers.
Emerging Tech
What's the best way to evacuate a building during an earthquake? VR can show you.
Emerging Tech
A smart credit card could communicate directly with banking institutions.
Data
Infrastructure meets the internet of things.
Emerging Tech
Here's some good news if your smartphone has a mediocre battery.
Emerging Tech
The program is like a video game... but much darker.
Emerging Tech
It could be considered a consolation prize for iPhone users.
Emerging Tech
If your New Year's resolution is to fight that tech addiction, here are some helpful tips.
Emerging Tech
It will let you know when other users upload your face.
Emerging Tech
But that doesn't mean there will be genetically modified strains of ebola in a test tube near you.
Emerging Tech
Travel will never be stress-free, but you can get close.
Policy
The new rules mean that some accounts will be suspended.
Data
Machine learning is helping to unlock the secrets of outer space.