Author Archive
Caitlin Fairchild
Web Producer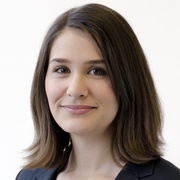 Caitlin Fairchild joined Government Executive in summer 2011 as an editorial fellow, after graduating from the College of William & Mary, where she spent four years writing for the student newspaper, The Flat Hat. In March 2012, she was hired full time as a web producer. She has completed internships at Washingtonian Magazine and at the public affairs office of Nellis Air Force Base in Las Vegas.
Cybersecurity
Confidential mode could be popular with those concerned with privacy.
Emerging Tech
You might want to clean out your trunk before you sign up.
Cybersecurity
If you're not careful, you could lose a lot of money.
Data
The audit missed a lot of key information.
Data
About 1.5 billion Facebook users around the world could see some changes to their terms of service.
Data
Some of the apps likely violate U.S. law.
Cybersecurity
NIST has developed a new security method using lasers and crystals.
Data
Do you really know who you're retweeting?
Emerging Tech
You'll have to figure out a different way to mine for Bitcoin and Ethereum.
Data
More than 70 million Americans were affected.
Emerging Tech
The agency believes that tech companies aren't doing enough to combat online drug sales.
Emerging Tech
Robots that fly, swarm and support life could help us explore the cosmos.
Cybersecurity
Kids are often more concerned with Minecraft than malware.
Data
In the near future, Visa applications filed through the State Department may require a lot of personal info.
Data
This announcement comes in the wake of the Cambridge Analytica scandal.
Data
It isolates your web activity from the social media giant.