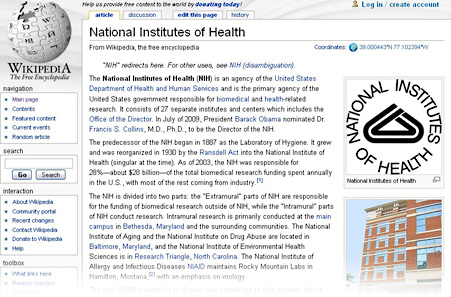 Anyone who has used the Internet is likely familiar with Wikipedia, the online encyclopedia edited and run almost entirely by volunteers. Wikipedia is the Web's most prominent source of information, but because of its crowd-sourcing model, it's not always the most credible. That's pretty much the opposite of federal Web sites, which are generally considered among the most trusted sources of information on the Web, if not the best known.
So bringing the two sides together seems like a natural fit, and it is exactly what the National Institutes of Health did this month by teaming up with Wikimedia, the non-profit that publishes Wikipedia.
To make that online information more reliable, NIH is encouraging its scientists and science writers to edit and even initiate Wikipedia articles in their fields. This month, it joined with the Wikimedia Foundation, which publishes the cyber encyclopedia, to host "Wikipedia Academy," a training session on the tools and rules of wiki culture, at NIH headquarters in Bethesda.

Over the course of a day, more than two dozen Wikipedia volunteers -- just a few of the 4,000 people who edit English-language Wikipedia articles at least five times a month -- gave presentations promoting the open-source encyclopedia and encouraging about 100 NIH employees to become editors. The volunteer instructors, or "Wikipedians," were not just techno-geeks; they also included scientists who could appreciate the questions NIH staffers might have. Attendees were shown how to use the template that produces a Wikipedia article, with its embedded table of contents and multiple links; they also discussed topics such as managing the quality of articles and the verifiability of information.
I spoke today with Jay Walsh, spokesman for Wikimedia who called the collaboration with NIH a "watershed moment" for the tiny non-profit, which boasts a staff of fewer than thirty people.
"This is the first time the foundation ever met with folks at the federal government level," Walsh said. "The dialogue is really about pushing forward. Our goal to get as many people from as many departments as possible to edit Wikipedia."
Walsh said the foundation hopes by increasing the number of government officials and researchers participating and editing Wikipedia, the site can reach a new level of professional competence by removing some of the existing bad information.
"This is an opportunity that was many months in design," Walsh said. "The folks at NIH, including the researchers, recognize that when you use Internet Wikipedia is constant, highly visible source of facts and data."
Walsh said his organization has just begun with its outreach to academics and professional researchers, with the goal of increasing trust and understanding of the site's unique all-volunteer format. That includes creating more workshops like the academy as well as more teaching materials and outreach directed at specific groups or subject-matter experts.
However, one thing that government officials may want to avoid is attempting to edit the entry for their own organization, which Walsh said is taboo in the Wiki community.
"Wikipedians are keen, it's not tough to determine if [someone] is editing an agency's entry from inside the agency," Walsh said. He encouraged government officials interested in learning more about Wikipedia to e-mail his organization at info@wikimedia.org.