Air Force finds cheaper way to air-deliver supplies to troops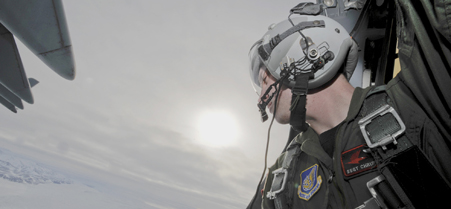 Air Force members simulate a combat delivery drop over Tin City, Alaska. Air Force
Officials with an Air Force airlift unit in Alaska said they have figured out how to precisely drop supplies to troops on the battlefield for a fraction of the cost of the high-tech systems now used to guide parachute-delivered equipment and to deliver food to remote locations in Afghanistan.
The 517th Airlift Squadron at Elmendorf Air Force Base in Alaska uses an Air Force Weather Agency supercomputer to crunch massive amounts of data on wind and air moisture to determine exactly when to parachute supplies from a C-17 that is flying at an altitude of thousands of feet so the cargo lands within 600 feet of its target. The cost per parachute: $1,000.
That process is far cheaper than the way the Air Force currently delivers supplies, in which it relies on computer-equipped, GPS-guided parachutes that cost $30,000 to $40,000 each to airdrop equipment and other supplies, said Lt. Col. Andy Hird, commander of the 517th Airlift Squadron.
The airlift squadron has tested the new system by dropping supplies to crews at remote long-range radar sites in Alaska, including the Tin City facility on Cape Prince of Wales, the westernmost point of the North American mainland, about 700 miles northwest of Anchorage.
Before an airlift crew heads out, they log on to a secure website, click on Get Weather, and download data onto their laptops. The data is provided by the Air Force Weather Agency at Offutt Air Force, Neb., where a supercomputer has taken wind and direction measurements to determine the best time to drop supplies within a three-hour window, said Lt. Col. Jeff Cox, director of operational training and evaluation at Offutt.
The weather information is specific to a location, but because the grids on Alaska maps are different from the continental 48 states due to the curvature of the Earth, the weather agency also has to perform complex calculations to account for the difference, Hird said. If not, the air drop could miss its target by a mile.
Since 2009, the Air Force has used the Joint Precision Airdrop System to parachute more than 3 million pounds of cargo to troops operating in rough terrain in Afghanistan.
The 517th then uses dropsondes, a parachute-equipped gadget about the size of a sports drink bottle, to refine the weather data crew members downloaded from Offutt before leaving Elmendorf Air Force Base. Just before the drop, a C-17 makes a pass over a radar station, and the crew chief tosses out a dropsondes, which transmits wind speed and direction data over a UHF radio link to systems on the aircraft. The crew uses the real-time data to adjust the release point for the cargo, Nita said.