DHS Device-Screening Catches Pedophiles at the Borders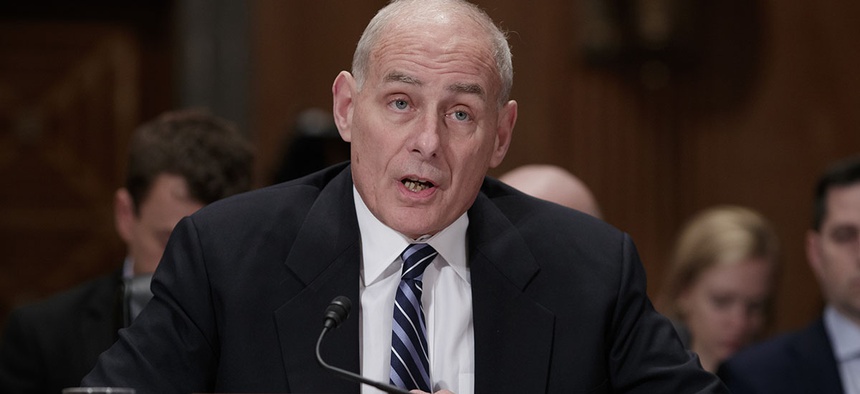 The Homeland Security Department occasionally examines foreign travelers' phones, tablets and laptops as they're entering the country. Often, it's a search for potential terrorists, but Homeland Security Secretary John Kelly told Congress this week about another threat so-called extreme vetting could thwart: pedophiles.
Kelly, who testified during his confirmation that DHS might ask travelers to hand over their social media credentials, told the Senate Homeland Security and Governmental Affairs Committee half a percent of the million visitors who enter the U.S. each day get their devices screened.
"Generally speaking, these would be foreigners anyway ... but it's the normal process of coming into the country," Kelly said during the hearing. "It's one of the ways they find these pedophiles."
» Get the best federal technology news and ideas delivered right to your inbox. Sign up here.
As they interview travelers, DHS employees might send some to a secondary screening—if passports seem "out of sync" or travelers have difficulty describing their past, they might be flagged, he explained.
"Some revolve around men that are coming from certain parts of the globe [known for] ... sexual tourism," he said. "We go on, look at their device and it's filled with child porn."
In fiscal 2015, DHS searched 8,500 devices; the following year, it ramped up to 23,000, according to committee Chairman Sen. Ron Johnson, R-Wisc.
Kelly also described ways device screening can identify potential terrorists. In one recent example, Customs and Border Protection identified a traveler about whom "there was something not quite right." His description of his past didn't exactly match with his passport.
After searching his phone contacts, vetters found he was "in contact with several ... well-known terrorist traffickers and organizers in the Middle East," Kelly said. "They then looked at the pictures and saw a full display of ... people being beheaded and all that."
"We had no reason to hold him because he wasn't in a database, so we sent him back," Kelly added.
He emphasized device screening is "not routine" and is "done in a very small number of cases." DHS does not plan to subject all travelers from any particular country to such screenings, Kelly explained.
"If there's a reason to do it, we will, in fact, do it," he said. "But whether it's France, Britain ... Egypt, Saudi Arabia or Somalia, it won't be routinely done at the point of entry."