Say 'Cheese' -- and Happy Birthday! -- to the International Space Station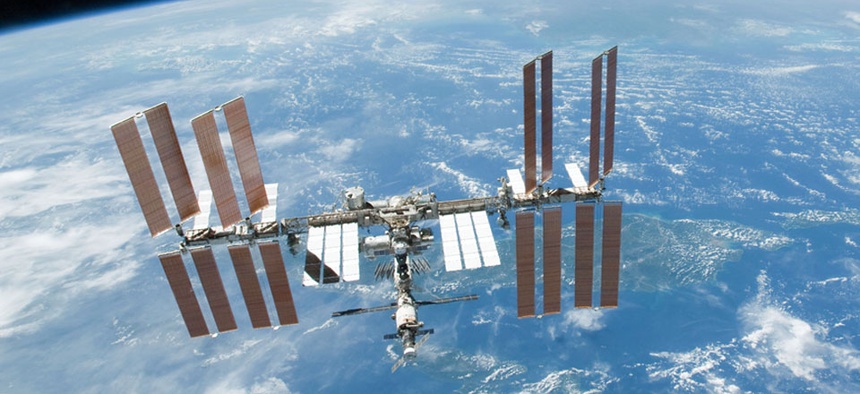 When the astronauts who pieced together the International Space Station snapped photos of the view from the cosmos, little did they know that there would eventually be an app for that.
On the 15th anniversary of the ISS, a recently-departed NASA program manager noted that a winner of the agency's recent "hackathon," which she managed, designed an iPad tool for timing the best extraterrestrial shots.
Terrestrial photogs can use the same app to frame the astronauts. 
The concept was "we're going to alert you and we're going to alert the astronauts on station 10- minutes before the flyover, so you can wave, and they can wave, and it coordinates a photo between the two," Ali Llewellyn, former NASA Open Innovation Program Office community manager, said during an interview on the sidelines of a conference hosted by Nextgov. 
The T-10 app (pronounced T minus 10) lets astronauts choose the area they want to photograph, pick whether they want a day or night shot, and set an alarm to go off when the location is visible. They receive a ten minute warning before the cross by. When the alarm sounds, they say "yes" to proceed with the countdown, and a message alerts T-10 iOS and Android device users on Earth to smile for the camera.
The Earthlings also get a 10-minute warning so they can grab telescopes and cameras to find a good angle. The astronaut's countdown screen displays the number of people ready to pose.
During an 83-hour brainstorming session this spring, citizens and astronauts in 44 countries "online and beyond" collaborated to solve specific NASA problems using public data sources, like space station positions.  
Still, the ISS is probably more inventive than the app. 
The space station "stands as one of the engineering marvels of this or any other age, and a testament to American ingenuity and perseverance," House Science Committee Ranking Member Rep. Eddie Bernice Johnson, D-Texas, said in a statement. "NASA should be proud of having built a robust facility for testing life support systems and other technologies to ensure they work in space and are reliable."