The election in social media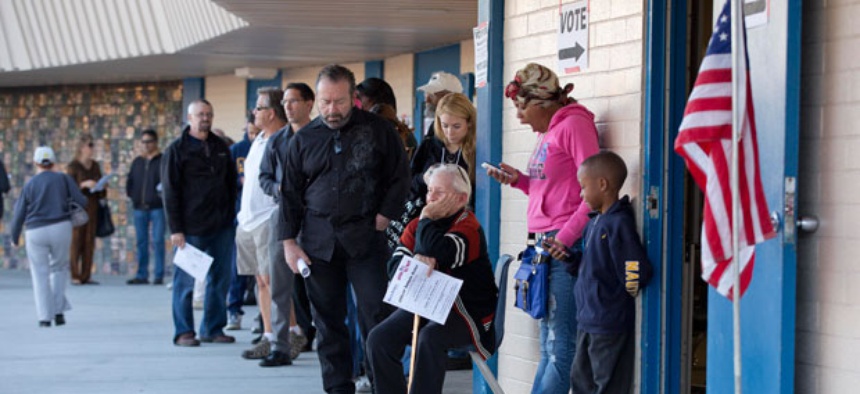 This story has been updated
The social media story of Election Day 2012 so far has been less about specific things social networking sites did than about the variety of news that came out of them.
At about 10:15 p.m. Twitter reported that, with 20 million tweets, the Election Day had become the most tweeted about political event in U.S. history. 
An Obama tweet soon after TV networks called the race for him had been retweeted nearly 300,000 times 45 minutes later at 11:50 p.m. That tweet said "four more years" and featured a picture of the re-elected president hugging First Lady Michelle Obama. 
Tweets about the election spiked at 327,000 per minute soon after the reelection announcement, making it the most tweeted moment of the presidential race, Twitter said. 
Twitter's political index, which ranks candidates' popularity on Twitter, showed gains for both candidates between Monday and Tuesday, though President Obama rose more than Republican challenger Mitt Romney.
Twitter was processing about 2,000 "I voted" tweets per minute as of about 3:30 p.m. Tuesday and had processed 1.4 million such tweets since the polls opened, the social network reported.
A Facebook widget that asked people to report that they'd voted had been clicked more than 8.7 million times as of 10 p.m. Tuesday.
A study released early Tuesday by the Pew Internet and American Life Project found nearly one-fourth of registered voters had told friends and family about their votes or their voting plans on social networking sites.
About 30 percent of Democrats described their votes on social media compared with about 20 percent of Republicans, the study found. Younger people were more likely than older people to advertise their own votes or encourage others to vote using social media, according to the survey.
Voters were also using social media to urge others to vote for their preferred candidate. Thursday's study showed 30 percent of registered voters had been encouraged to vote for either President Obama or Republican challenger Mitt Romney and 20 percent had encouraged others to vote.
Social media also tackled smaller questions.
A CNN poll on Facebook's U.S. Politics page early Tuesday showed most voters thought they'd know who the next president would be before they went to bed.
The page also included a list of the most mentioned words on Election Day. The list began with variations on the word "vote," followed by "Obama," then variations on the word "election." "Romney" was the fourth most used word followed by "president."
The surprise social media story of Election Day was the number of voters who shared photos of their completed ballots on Instagram and the news they may have broken the law in seven states.