Joint Staff to assess the 4G cell system being tested by the Navy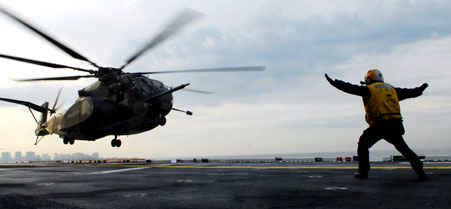 Edouard H.R. Gluck/AP
The Joint Chiefs of Staff, which supports the military service chiefs, plans to assess the capabilities of the commercial 4G cellular system that the Naval Air Systems Command has already tapped to provide broadband data service on three ships in the USS Kearsarge amphibious ready group.
Army Lt. Col. Lisa Whittaker, the Joint Staff's deputy branch chief of the Future Capabilities Assessments Branch Command, Control, Communications and Computers (C4) Assessments Division, said her organization has purchased a broadband 4G Long-Term Evolution base station from Oceus Networks of Reston, Va., to assess how well the system could support deployed forces.
Whittaker, who also serves as the LTE Deployable Tactical Cellular System project leader for the C4 division, said this is part of a continuing process to evaluate commercial cellular technology for use in the field and follows an earlier project to assess a 3G base station from Qualcomm. 3G cellular systems transmit data at rates ranging from between 144 and 384 kilobits per second; 4G LTE systems can transmit data at rates between 8 and 15 megabits per second.
A justification and approval notice for the acquisition of the Oceus base station, which was published on the Navy Electronic Business Opportunities website, pegged its cost at $186,963 and described it as "uniquely capable" of meeting the needs of the Joint Staff C4 Assessments Division.
That notice described the base station as a short-range picocell that cellular carriers typically deploy to provide coverage in airports, shopping malls or train stations. The Oceus base stations that NAVAIR will install on three ships will have a range of between 15 and 20 miles.
The notice said the Oceus base station can be installed in tactical vehicles, unmanned aerial vehicles and ships.