Air Force Special Ops relaunches iPad buy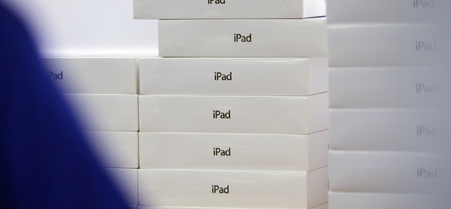 Paul Sakuma/AP file photo
This story has been updated.
The Air Force Special Operations Command has launched another solicitation for Apple iPad tablet computers to store digital charts for its flight crews following the abrupt cancellation in February of its original iPad procurement.
AFSOC canceled the original iPad solicitation after Nextgov reported the command planned to use software developed in Russia to read PDF chart files and provide mission security for the iPads. The command omitted that Russian software in the new procurement.
The command said it would acquire 2,725 third-generation iPads in the request for proposals released Monday, down 36 from the original procurement. AFSOC said it would consider bids for iPad "brand name or equal" tablets.
When the Air Force Air Mobility Command launched a procurement for iPads in February, it insisted it would accept bids for brand name or equal tablets, but bought 18,000 iPad 2 tablets -- not generic "equals" -- from Executive Technology Inc. of Phoenix in March.
The U.S. Coast Guard also has announced plans to acquire iPads "or equal" tablets for its flight crews, and the Coast Guard Air Station Elizabeth City, N.C., released a solicitation for 35 electronic flight bag tablets Tuesday.
AFSOC said it wanted to buy tablets equipped with Wi-Fi, but without built-in cellular communications. Since iPads have not yet been certified by the National Institute of Standards and Technology as conforming to the Federal Information Processing Standard 140-2 to ensure wireless security, ASFSOC said it will take bids on tablets, which use the 256-bit Advanced Encryption Standard, for security.
The tablets will run digital flight charts produced by the National Geospatial-Intelligence Agency, ASFSOC said. NGA's aeronautical navigation office started developing digital flight charts in the summer of 2011, and a beta version of the Apple charts has been available since January.
AFSOC also wants to buy two-year warranties for the tablets -- specifying AppleCare+ Plan "or equal" -- and USB power adapters for each tablet. The command intends to award the contract to the lowest priced, technically acceptable bid, with proposals due on April 23, two weeks after release of the request.
The Coast Guard also has its iPad buy on a fast-track, with responses due on April 24, two weeks after release of its procurement.