State Department supports boosting women's cell phone access in developing nations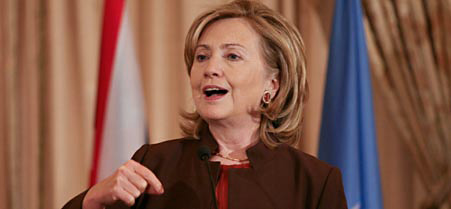 A cell phone "is a door to greater education and information," Secretary of State Hillary Clinton says.Newscom
Secretary of State Hillary Clinton launched a program on Thursday that aims to convince more women in developing nations to use mobile phones, a practice that directly affects economic success and increases social interactions.
Worldwide, women are 21 percent less likely than men to own a mobile phone, according to a report released by Global System for Mobile Communications Association, a London-based group that represents worldwide mobile communications companies, and the Cherie Blair Foundation for Women, which promotes entrepreneurship among women in developing countries.
Women without mobile phones do not have the economic and social benefits, such as finding markets for their goods and ensuring their personal safety, that typically are associated with cell phone ownership. Cell phones also have helped illiterate woman learn numbers and letters.
"And so it is not only a device, it is a door to greater education and information," Clinton said at an event to launch the mWomen Programme, which aims to increase the number of women in developing markets who have access to a mobile phone to more than 150 million in three years. GSMA and the Blair Foundation established the program.
Technology is the "on-ramp to modernity," Alec Ross, a senior adviser on innovation in Clinton's office, said at a press conference following the event to kick off the initiative.
Clinton is a "firm believer in the power of public-private partnerships to address our global challenges," said Melanne Verveer, ambassador-at-large for global women's issues, at a State luncheon announcing the program. "For as long as I can remember, she's been talking about the three legs of the stool: business, civil society and government collaboration on solutions for greater effectiveness and sustainability."
Mobile technology, Clinton said, has "changed how [the State Department] pursue[s] our twin missions of diplomacy and development."
Not only can a cell phone help coordinate disaster relief, but it also can help improve governance and strengthen democratic institutions, she added. Clinton cited as an example the recent voting in Kenya, where previous elections had led to violence, but peace was maintained in part because technology tallied ballots in real-time.
"But beyond the personal applications, we know there is much we can do if we change laws in countries, if we create the infrastructure that's needed, if we create the markets that are required," Clinton said.
State's support of the program will provide the "greatest global impact," said Blair, former first lady of the United Kingdom. The private sector has an incentive to support the program because it is a $13 billion market.
"No one is going to ignore that," she added. "We must work across all sectors to reduce barriers to mobile ownerships such as high handset costs, cultural prejudices . . . and, of course, the fear of technology, particularly among older women."