GSA chief outlines IT spending to House appropriators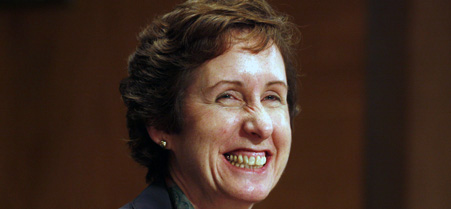 042810johnsonNGins(Apr. 28) - GSA's Martha Johnson says the agency will "improve the effectiveness of government at a lower cost to taxpayers."Harry Hamburg/AP
At the top of the General Services Administration's goals are new technology projects to increase transparency and improve business practices, agency officials said on Wednesday.
In testimony before the House Appropriations Financial Services subcommittee, GSA Administrator Martha Johnson reiterated the importance of collaboration through collective intelligence and emerging technologies, which will help the government improve its relationship with its customers and make better business decisions.
"We are making significant strides in testing cutting-edge information technology, employing collaborative tools and pressing for new practices, including cloud computing, to improve the effectiveness of government at a lower cost to taxpayers," Johnson said.
In March, Johnson said GSA must change its internal business practices such as improving the flow of data and information to boost performance. On Wednesday, she told House appropriators how the agency's budget request would be used to reach those goals.
The agency is asking for $675 million in fiscal 2011, a significant increase of $80.3 million from the fiscal 2010. That request includes $5 million for e-government projects, some ongoing and some new, Dave McClure, associate administrator for GSA's Office of Citizen Services, said in an interview after the hearing. Specific projects include a governmentwide collaboration application, a revamped citizen services dashboard and a platform to assist agencies running employee contests aimed at creating better business practices.
The contest application is notable because GSA sought a no-cost solution, he said. GSA plans to release more details about the project next week.
The agency plans to develop database systems to streamline operations and control costs. The budget request includes an increase of $25.5 million for governmentwide policy programs such as the Integrated Acquisition Environment, which will integrate existing acquisition databases. GSA will establish benchmarks during the next few years, with the first milestone set for fiscal 2011, Michael Robertson, who will take over as GSA's chief of staff on Monday, said in an interview.
As part of its sustainability initiative, GSA's Federal Acquisition Service is testing a Web tool to track greenhouse gas emissions and other energy-related data. The site will be made available to agencies that want to reduce energy consumption and save money.
GSA has requested $24.9 million for federal acquisition workforce initiatives; $9 million in IT programs, including improved training curricula; a more careful accounting of workforce strengths and gaps and a stronger community-building program for sharing best practices.
"We believe the acquisition workforce needs some real attention and support," Johnson said.
Lawmakers praised GSA's ability to attract new talent. Young professionals come to the agency because it offers opportunities that others don't, said Rep. Jo Ann Emerson, R-Mo., the subcommittee's ranking member. But she added the federal application process is a deterrent to many.