One year in, resistance to open government memo lingers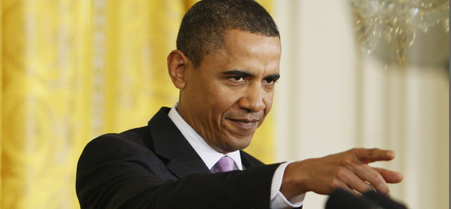 When he took office, President Obama said he wanted agencies to leverage new technologies to open government.Charles Dharapak/AP
One year after the president announced an initiative to open the government, agency leaders have demonstrated a strong track record of embracing emerging media to disclose information, but some mid-level managers have been reluctant to move outside the traditional chain of command.
President Obama during his first full day of work on Jan. 21, 2009, issued an executive memorandum instructing the chief technology officer, in coordination with agency heads, to recommend provisions for an open government directive that would leverage new technologies. He called for a document that would dictate steps for using technology to share information with the public, involve citizens in decision-making and foster collaboration with industry. The Office of Management and Budget published the directive only recently -- on Dec. 8, 2009 -- due to a delay in hiring a CTO and requests from activist groups for more public consultation. But when it finally was finished, department heads and government transparency advocates, for the most part, celebrated the end product.
The first major assignment in the directive is due on Friday. Agencies must publish at least three new downloadable sets of statistics that hold the government accountable, illuminate their work, share financial opportunities with the public or meet some other need conveyed by citizens. The Obama administration laid the groundwork for this task in May, when it launched a storage space for all manner of federal data sets called Data.gov. But critics have complained that much of the information on Data.gov is not in Web-friendly formats.
Some government personnel and technology industry observers expect Friday's releases will be equally hard to use and might not be revealing. Employees at the Defense and Veterans Affairs departments said mid-level managers are pushing back against implementing the directive because of concerns about security and privacy, as well as cultural resistance. Some former federal officials said the two agencies tend to have the toughest access restrictions in government because of the confidentiality of their work and, thus, department personnel are probably more conservative than other federal employees about posting information.
"Junior troops, operationally, are doing all this stuff already," said Staff Sgt. Joshua Salmons, emerging media coordinator at the Defense Information School. "They are digital natives. The senior leaders understand the value of this. It does fall to the middle sector to get onboard."
Salmons' job is to convert the naysayers and weave online transparency into daily operations. Opponents of the directive often cite security or bandwidth concerns, he said, adding that those are easily surmountable obstacles with proper training and guidelines. He noted he also encounters political opposition. For instance, some employees have the attitude, "We did it this way when you got here; we'll do it this way when you leave," he said. Sometimes, mid-level managers think the risks of using social media aren't worth the potential rewards, especially if they believe a new leader is going to change procedures again, Salmons said.
One VA employee, who wished to remain anonymous, questioned why there are not data sets detailing backlogs of benefits and why online tables and graphs intended to shed light on contracting make it hard to discern the fees vendors are charging. The shift to open formats that is implicit in the directive also is meeting resistance, several employees said. A Defense employee, who asked not to be named out of fear of retribution, said he designed -- and tested -- an open system architecture that would be free to government agencies, replacing the need for customized proprietary applications. But legacy contractors that would have lost business if the new application replaced their products told department officials the tool was faulty, he said. Defense then halted the initiative, the employee said.
Kevin Carroll, a consultant who once served as the program executive officer for the Army's enterprise information systems, noted that some of Obama's political appointees have not been in place long enough to enforce compliance with the directive.
Administration officials said they likely will not push back Friday's deadline, even if they don't receive the kind of high value statistics they had in mind. They did not comment on the specific allegations raised by the VA and Defense employees.
"For the past several weeks, agencies have worked hard to identify the new data sets to go up on Data.gov," OMB spokesman Tom Gavin said. "While we don't expect to extend the deadline, there is also no cutoff to the addition of data to the site. When Data.gov launched in the summer, it had 47 data sets. That has grown to more than 118,000, with significant new data about to be published."
During a Jan. 11 government workshop, Salmons asked a panel of senior officials from other departments whether they had run across any politically motivated opposition to the president's open government initiative.
Jim Rolfes, chief enterprise architect for the Interior Department, said: "To the extent that I see any reluctance in putting any information out or moving as fast as we possibly can ... there is a recognition that there is a potential tension between 'Get it all out there' and sunlight being the best disinfectant, and recognizing that there may be some unintended consequences."
The Transportation Department hosted the interagency workshop to provide a forum for government staff to share strategies, address challenges and build momentum for open government implementation.
"There are some consequences in terms of information aggregation that could come out," Rolfes said. "There could also be some consequences of misinterpreting data; taking data out of the context in which it's intended."
But he said he is not witnessing a posture of, "Well, let's just dig in our heels and wait until the next administration." In fact, Rolfes observed just the opposite. "I see a lot of interest and attention ... to using it as an opportunity to promote the programs and the good work that the agency is doing," he said.
Giovanni Carnaroli, Transportation's associate chief information officer for IT policy oversight, said the public is not going to accept any foot-dragging.
"The public wants openness ... we need to be comfortable in being open. The concern that the data that we put out may be misinterpreted is a challenge and a risk that we need to address, but not necessarily push back on," he said.
Carnaroli added that the advantages outweigh the disadvantages, enabling many eyes to examine the data upon which the government bases critical decisions. Under the directive, each agency has 120 days to develop a plan delineating how it will enhance transparency and incorporate public participation and collaboration into agency activities. Carnaroli said Transportation's plan will include risk mitigation strategies that address security hazards, cultural resistance and funding limitations. The plan will focus on "educating the government employees in a new way of doing business. Eventually, it will turn [out] to be the status quo," he said. Filing requests for records under the Freedom of Information Act "may become a thing of the past, if we do it right," he added.
Despite challenges in implementing the new directive, the administration during the past year has set a new tone of transparency by releasing White House visitor logs for the first time -- online, no less -- and partnering with federal employees at all levels of the pay scale on decision-making.
The government can boast many successes in each of the Jan. 21 memo's three areas of focus: transparency, participation and collaboration. Those accomplishments include Web sites that disclose previously hard-to-find government information, online events where citizens participate in agency activities and the now-routine use of commercial technologies that foster collaboration among federal employees.
For example, last spring, the Federal Aviation Administration posted its bird strike database after a plane ingested multiple birds, resulting in double-engine failure and an emergency landing on the Hudson River in New York. The White House also launched a dynamic display of the progress of information technology investments across the federal government, the IT Dashboard. The site is supposed to allow the public to check whether the government's $75 billion IT portfolio is on track and on budget, though some government transparency advocates contend the project and financial details are too pithy to provide insights.
As for participation, early in the new administration, the government brokered an agreement with major social networking firms such as Facebook and YouTube to encourage interaction between agencies and average citizens. In March, the president held an online town hall meeting to answer questions that citizens submitted electronically, including inquiries about his stance on the legalization of marijuana. The administration also sought the advice of Internet users nationwide, through various new media channels, on what policies should be included in the directive. Many open government activists and other participants said the final guidance reflects their ideas, but they wish it had enforcement powers.
Taking a cue from the private sector, the government this fall opened an online storefront, Apps.gov, where agencies can order cloud computing services, or shared IT software and hardware rented for a set period of time instead of owned in-house.
In opening the government to the public, "one of the largest challenges is the proprietary systems," said Kevin Novak, a former director of Web services at the Library of Congress who now serves as co-chairman of the World Wide Web Consortium eGovernment Interest Group. The XML format, which allows users to extract and compare data with outside information, and some of the other open standards are fairly new and many agencies are running systems that could be 20 years old, he added. Critics of the information on Data.gov complain that much of it is not in XML format.
Still, Novak said he senses many Web managers are thrilled they finally have a mandate to experiment with new tools for collaboration and transparency.
The Federal Communications Commission, in particular, has tried to improve the manner in which it seeks public input on rule-makings, following criticism about its information collection processes. Even before the directive came out, top officials and the workforce had spent an unprecedented amount of time pulling the public into the process of drafting a nationwide broadband strategy that addresses the competing interests of consumers, content providers and Internet service providers. Earlier this month, as part of the directive, the agency debuted Reboot.FCC.gov to solicit feedback on improving interaction with citizens.
In 2009, the White House offered employee incentives to promote healthy workplace behaviors, seek clean energy ideas and solicit budget cut proposals, but OMB's Gavin said the administration has no plans to reward the most "open" agency.
"The administration values the input of front-line employees, whether on new approaches to open government, fresh ideas to save taxpayers' dollars or innovative approaches to long-standing problems," he said. "While this isn't a prize-driven effort, there are lots of ways for federal employees to contribute ideas on leveraging technologies and tools to expand government efficiency and effectiveness."