Could mobile technology have stopped state dinner security breach?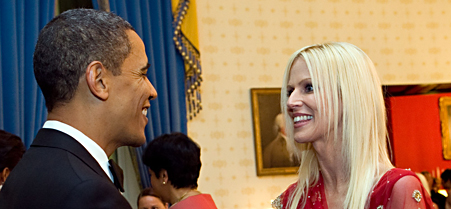 A Washington area couple allegedly managed to attend portions of a state dinner without proper clearance.Samantha Appleton/The White House
Improved networking of mobile devices could help prevent security gaffes such as the alleged errors that led to an uninvited couple being allowed into the Nov. 24 White House state dinner, say some government technology specialists.
In its fiscal 2011 budget, Congress gave the Secret Service, which is part of the Homeland Security Department, nearly $34 million to consolidate networks. It is unknown if the service will spend the money on better mobile connections. A conference report that accompanied the fiscal 2011 spending bill enacted on Oct. 28 states the funds should be used for information technology modernization "consistent with DHS guidance for data center consolidation and enterprise architecture requirements."
At the White House event, a Washington area couple allegedly managed to attend portions of the festivities without proper clearance. Officials blamed a failure at the Secret Service to follow appropriate protocols.
But the lines of defense for White House security likely not only included the Secret Service but other Homeland Security intelligence operations such as the White House Military Office, the FBI and the DC Metro police, all of whom need to share information, said Ray Bjorklund, senior vice president and chief knowledge officer at market research firm FedSources in McLean, Va.
"Let's not forget that protective security entails human elements as well as technology elements and that the Secret Service is not the only player in White House security," he said. "Information sharing and, more specifically, intelligence sharing within the intelligence community, and command, control and intelligence systems . . . are integral to operations."
The Secret Service's IT upgrade is intended to provide near real-time intelligence, but it is unknown how far-reaching the enhanced connectivity will be. "I don't see how such improved capability would play in the alleged security breach unless secure communications networking of mobile terminal devices will be extended to each security checkpoint in the lines of defense," Bjorklund said.
Stan Soloway, president and chief executive officer of the Professional Services Council, which represents government contractors, said technology likely was not a factor in the security lapse. Witnesses reportedly have said that the ID inspection at the White House's second checkpoint was cursory at best, he said. "From everything I've seen, that's really the story, . . . a breakdown of what is supposed to be a very disciplined, human process," Soloway said. "I don't think the best IT system in the world would have changed that."
According to Secret Service spokesman Malcolm Wiley, a lack of information sharing tools played no role in the error. "Technology played no part, nor did any failing of technology," he said.
Secret Service officials said initial findings show personnel failed to follow protocols at one of the initial checkpoints in verifying that the couple was on the White House guest list.
More details are expected to surface during federal and congressional probes. Rep. Bennie Thompson, D-Miss., chairman of the House Committee on Homeland Security, announced on Monday that he would hold a full committee hearing on Dec. 3 to examine deficiencies in security planning prior to the dinner and ways to correct them.
The committee already had been reviewing allegations of mismanagement at the Secret Service, including inadequate resources, the appearance of discrimination and weaknesses in security at the inaugural events.
During the Thanksgiving holiday, Rep. Edolphus Towns, D-N.Y., chairman of the Committee on Oversight and Government Reform, said in a statement, "We need an immediate investigation into the facts of this case and a review of the Secret Service's security practices. I have asked for a preliminary briefing next week and will follow the investigation until we understand what actually happened."