National Guard sends IT equipment to support tsunami relief in Samoa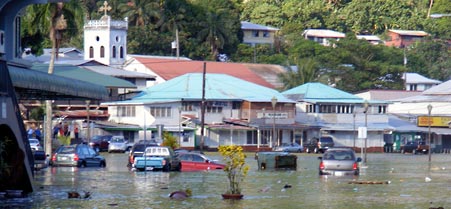 A main road in the downtown area of Fagatogo, American Samoa is flooded by water on Tuesday.Fili Sagapolutele/AP
Less than 24 hours after a tsunami with 20-foot waves roared ashore on American Samoa on Monday, the Hawaii National Guard loaded communications equipment on an Air Force C-17 cargo plane to support relief efforts on the island 2,600 miles away.
Planning for the response started minutes after the Joint Operation Center at the National Guard Bureau in Crystal City, Va., received an automatic e-mail alert sent at 1:45 p.m. on Tuesday, that reported an earthquake of 8.4 magnitude could cause a tsunami somewhere in the Pacific, said Lt. Col. Theo Dressler, the bureau's crisis operations branch chief.
The bureau, which coordinates activities for Air and National Guard units in all 50 states and U.S. territories, alerted units in Alaska, the Pacific Coast states, Hawaii and Guam about a potential tsunami, he said. The undersea earthquake occurred so close to Samoa, home to 64,000 U.S. citizens, that the tsunami hit the island within 18 minutes after the alert was sent.
About an hour after the quake, the bureau began working with the Hawaii National Guard to provide support to the Federal Emergency Management Agency, Dressler said.
The Hawaii Guard assembled equipment and supplies, including deployable communications systems, which were loaded onto three C-17 airlifters at Hickam Air Force Base in Honolulu on Wednesday and Thursday.
The operations included personnel and equipment from the 735th Air Mobility Squadron, the 15th Airlift Wing, the 154th Medical Group of the Hawaii Air National Guard. It also included the Guard's chemical, biological, radiological, nuclear and high-yield explosives Enhanced Response Force.
The systems loaded on the first C-17 dispatched to American Samoa included a Joint Incident Site Communications Capability system from the Hawaii Guard and used by its units nationwide, said Army Guard Maj. Garland Pennington, chief of the bureau's joint Command, Control and Communications Center.
The system provides interoperable voice, data, video and radio links between first responders and other local, state and federal agencies. The system, loaded on cargo pallets for the flight to America Samoa, serves as a communications bridge between incompatible radio systems, Pennington said.
The Hawaii Guard also sent a deployable cellular telephone system called an Interoperable Communications Extension System, which includes base-station electronics, a tower and 100 mobile phones that will be given to emergency workers, as well as 20 laptop computers.
The Hawaii Guard also sent a van with equipment similar to the Interoperable Communications Extension System, which allows incompatible radio systems to communicate.
Dressler said the Guard responded quickly to the crisis in Samoa, considering the distances involved.
But Jack Harrison, a bureau spokesman, said the fast response is routine, not an exception. "We do this every day," he said. "On average, more than a dozen governors every day will call on their National Guard to respond to contingencies that range from severe emergencies, like this, to white powder scares."