Industry group meets to consider upgrading VA patient record system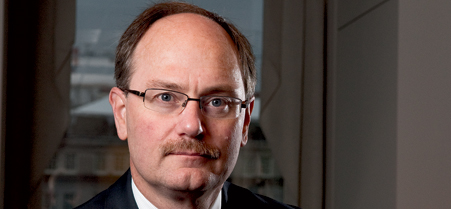 VA CIO Roger Baker said he wants the group to leverage the VA's health records system for the "betterment of the country."Chris Flynn
A blue-chip group of information technology companies met on Wednesday to consider the work required to modernize a decades-old federal electronic health record system that stores the medical files for millions of veterans and their families, with the underlying implication the system could become a platform for the national health record network President Obama envisions.
The Industry Advisory Council, a 550-member group of technology companies that works to foster dialogue with federal agencies about IT solutions and procurement, invited executives from about 40 high-tech corporations to form the VistA working group. VistA stands for the Veterans Health Information System and Technology Architecture, an electronic health record system that the Veterans Affairs Department has operated for two decades.
IAC, which includes technology giants AT&T, Cisco, Dell, IBM, Oracle, Unisys and Verizon, met behind closed doors on Wednesday in Tysons Corner, Va., outside Washington to discuss the possibility of upgrading the system, which might include using open source code, a move that would make a relatively cheap electronic health records alternative to clinicians nationwide.
The agenda for the meeting, which an invitation described "as one of the most significant projects IAC has ever undertaken," has "staggering implications" for the IT industry if VistA could become a platform for a national heath care IT standard, said an industry source who declined to be identified because of the sensitive nature of the discussions.
High-tech conglomerates are investing millions of dollars in developing electronic health records systems businesses, hoping to cash in on the billions of dollars that hospitals and doctors' offices will spend deploying the systems. The stimulus package that Obama signed into law in February includes about $20 billion for electronic health records.
Some physicians have criticized the government's push to a nationwide network of digitized medical records, arguing they cannot afford to buy the computer systems. Technicians say many of today's electronic health record systems cannot share records because they operate on different standards.
But upgrading Vista, especially to operate on open source, could answer many of those objections, sources said.
Roger Baker, chief information officer at VA who requested IAC to form the working group, said in an interview with Nextgov that VistA is "the best in the world" and he has asked the IT industry to look into leveraging the system "for the betterment of the country."
Baker said one of the questions he wants the working group to consider is how VistA can improve the American health care system, including the use of the software in the private sector. He added that industry must help improve VistA, which has widespread acceptance by VA clinicians. "Doctors love VistA and we would be crazy to walk away from it," he said.
VA has a long-term project to replace VistA, but Baker said he is not ready to abandon the network and hopes IT companies that are part of the working group can determine what the government would need to do to modernize the old system. Ed Meagher, director of strategy for health affairs for SRA International who served as deputy CIO at VA from 2001 to 2006, chairs the working group. He could not be reached for comment.
Baker said any effort to push the system, which "is owned by the American public," into the private health care industry, which is served by hundreds of commercial electronic health record vendors looking to cash in on the billions of dollars expected to be spent on health systems in the coming years, has to consider the role of the government in a free market.
Aneesh Chopra, whom Obama appointed as federal chief technology officer in May, agreed that VistA was popular among doctors, but added the government must remain platform neutral when it comes to electronic health record systems. Chopra said he viewed the working group as a powerful example of collaboration between government and industry to support VA. But he added that an improved VistA might be only "one of the many alternatives" that could serve as a platform for an electronic health record system in the private sector.
The working group's agenda, which was provided to Nextgov, makes it clear that the members will discuss upgrading VistA for both public and private sector use. "It has been suggested that there may be advantages in making VistA available to a broader community that could include both government and nongovernment entities," the agenda noted. "While no decision has been made about such an initiative, VA's management is interested in understanding the issues, challenges and opportunities associated with such an action. The government is also seeking advice on how to upgrade the system to take advantage of innovative software and technologies."
In addition, the agenda asked industry to develop answers to the following questions:
--Is VistA a system that could be deployed to a wider community? If yes, what is the most appropriate deployment model: open source code; cloud computing; business process/methodology; other?
--Should VistA be established as a national standard? What are the implications of this action?
--What is an appropriate strategy for modernizing VistA and transitioning it to a more current and innovative architecture?
--What are the opportunities and impact of modernizing and deploying VistA on private industry, the health care community and other key groups?
Michael Doyle, president and chief executive officer of Medsphere Systems Corp., which sells an open source version of VistA, said he supports the effort "to take VistA to the masses." Medsphere's version sells for about a third of the cost of commercial health record systems, which have an estimated price tag of between $10 million and $70 million.
In its letter to members of the working group, IAC said it expected to complete the VistA project in six months. While the meeting was closed to the public and the press, work on the project will be posted on a public Web site in what an industry source said was keeping in the spirit of transparency that Obama has called for.