Administration looks to attract venture capital to gov contracting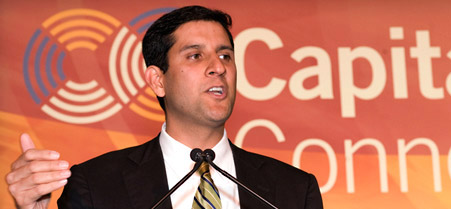 "We're looking at the procurement process to make sure we're able to tap into some of the best ideas," Federal CIO Vivek Kundra said.Mid-Atlantic Venture Association
The Obama administration is reviewing the government procurement process to better position innovative startup companies to compete for technology contracts, said Vivek Kundra, the federal chief information officer, on Tuesday.
Kundra made the announcement at a business conference in Washington hosted by the Mid-Atlantic Venture Association, which represents professionals from private equity and venture capital firms that together manage more than $100 billion in capital.
"We're looking at the procurement process to make sure we're able to tap into some of the best ideas. We cannot continue to spend billions of dollars on IT projects that haven't produced the dividends we've been looking for," Kundra said in his speech. "The federal government can lead when it comes to innovation."
Government officials are "very early" in the process of improving the procurement system to bring in promising VC-backed technologies, Kundra told Nextgov after his speech.
The sticking point is finding a balance between the risk of zero return on investment and the potential for obtaining an innovation that transforms society, such as the Internet.
There is precedent for such experimental research and development. The Web actually grew out of the Defense Advanced Research Projects Agency, the research-and-development arm of the Defense Department. And there are several government-funded venture capital firms, including In-Q-Tel, a nonprofit sponsored by the CIA that invests agency funds in promising early-stage companies.
The administration has made no secret about its ambition to lead industry in terms of R&D spending and achievements. President Obama has committed to spend 3 percent of the gross domestic product on research-and-development activities, Kundra told the entrepreneurs on Tuesday.
One of the largest historical investments in R&D comes at a time of extreme fiscal restraint, he added, noting the significance of the expenditure.
But contracting with private equity firms and startups presents unique challenges, Kundra told Nextgov. "Given the high failure rate of technology projects" from emerging companies, "the promise of technologies is [sometimes] oversold."
Another stumbling block involves incentives for startups. The newly launched data.gov could circumvent that challenge by giving entrepreneurs a chance to prove their worth, before the government commits money, he said. The site aims to provide the public with access to raw federal data that they can download and repackage.
"Within the coming months you're going to see hundreds of thousands of feeds" added to data.gov, Kundra said during his speech.
Kundra likened releasing taxpayer-funded, government data to offering "government, as a platform," citing Apple Inc., as an example. Apple created a platform that encouraged the innovation of software applications for its iPhone equipment; in the same vein, the administration is creating a platform to encourage innovation in government operations, "rather than trying to solve everything internally," he said.
Former federal officials also broached ideas during the same session for involving private investors and venture capitalists in government services.
"What Vivek is talking about is, if a [private equity] firm had a cloud computing solution, then you've got somebody to go to and you could make a pitch for that," said former Federal Communications Commission Chairman Reed Hundt. He now works as a senior adviser on information industries to consulting firm McKinsey & Co. and serves on the board of Intel Corp. and high-technology startups.
"We don't know if it will work yet, but the point is, that is what the president wants," Hundt said.
Kundra also stressed the opportunity for investment in health information technology since the government has allocated $19 billion through the stimulus package to boost adoption of electronic health records.
Former Health and Human Services Secretary Tommy G. Thompson, now a partner at law firm Akin Gump Strauss Hauer & Feld LLP, said health IT is a market that is in desperate need of agreement on standards among all stakeholders.
"There is no reason the standards shouldn't have been passed four years ago. That was a failure of my department, my former department, of not getting those standards out. The reason is you can't get consensus on standards," he said.