Review: Finally, a Better Inkjet Printer?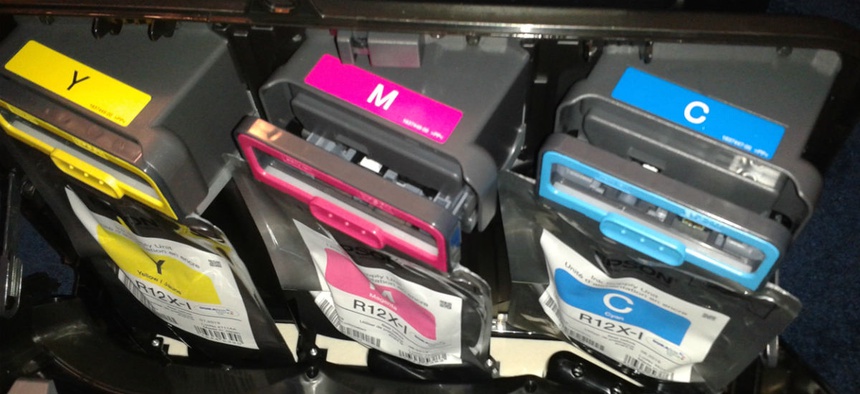 John Breeden II is a columnist for Nextgov and an award-winning journalist and reviewer with over 20 years of experience covering technology and government. He is currently the CEO of the Tech Writers Bureau, a group that creates technological thought leadership content for organizations of all sizes. Twitter: @LabGuys
One of my favorite things to do with my Nextgov column is to shine the spotlight on a new technology that might help to make lives, or at least our jobs, a little bit easier. These new advancements almost never come from the world of printing technology, an area that I've covered for almost 20 years.
With printers, the technology pretty much hit a plateau and remained stable for years. Other than the format wars between inkjet and laser printers, and perhaps some minor disruptions like Xerox's solid ink line, not a lot has changed. Advancements tend to be minor, along the lines of eking out an extra page per minute in speed or a 2-cent cost per page reduction in consumables.
Having witnessed only minor changes over the past 20 years, I can honestly say I was completely taken by surprise, and really blown away, by the Epson WorkForce Pro WF-R4640 EcoTank printer. Technically, it's an inkjet printer, but one that conquers all of the disadvantages of that format.
It may look a little bit clunky, but that's because it comes loaded with enough ink, in both color and black and white, to be able to print documents for many years without ever needing a refill. I was fortunate enough to be able to test one out in my lab.
The WF-R4640 has all the advantages of a normal inkjet printer in that it can produce beautiful prints, especially ones loaded with graphics. It does a good job even with plain office paper. When using photo paper, photographs scanned in and printed out are nearly indistinguishable from the originals.
And if you haven't seen an inkjet printer in a while, you might be surprised at how fast they have gotten. The WF-R4640 isn't the fastest printer I've ever tested, but it's pretty darn quick, finishing up a punishing 30-page document packed with text and graphics in 2 minutes and 29 seconds. A 30-page all-text document took 1 minute and 42 seconds to print.
Here's a YouTube video of my speed test:
But none of that makes the WF-R4640 really special. It's actually the ink, and the delivery method. In a traditional inkjet printer, the ink packs are tiny and expensive, sometimes costing $50 to $80 per cartridge depending on the model. And those packs might only last a couple hundred pages before they need to be changed out again.
Instead, the Epson WF-R4640 uses something that looks like giant hospital IV bags to hold its ink. You hang the cyan, magenta and yellow bags on the right side of the printer and the black one on the left. Once in place, they are protected by plastic covers that also help to make the printer look a little bit less like a science experiment.
Most printer ink has a short shelf life, but the ink for the WF-R4640 has been designed to hold its quality for over three years without fading or reducing its quality. That's an important consideration because each bag can print about 20,000 pages before it needs to be replaced. For most medium-sized work groups, that means being able to print for a couple years before worrying about filling up the tank. For individuals, you are probably going to be able stretch that out even further.
The idea behind the new printer is that people and organizations might be willing to pay more for a printer and then save money over time by not having to purchase a lot of ink. The WF-R4640 I tested, which is an enterprise model in the line, costs $1,199. The high-capacity ink bags cost $179 for black and $99 for the colored ones, putting the cost per page under 1 cent. Even so, at those high initial prices, it may not be right for everyone.
Still, after running hundreds of pages through the WF-R4640 during the testing, it was nice to see the ink levels still hovering at 95 percent capacity. With almost any other inkjet printer, the ink would have needed changed out at least once by that point. But with the WF-R4640, there are many pages, and likely a few more years, to go before needing to top off the tanks.
Printers are probably one of the most used and least considered peripherals on most networks. And while the new Epson EcoTank line might not be the silver bullet for every agency, it offers an interesting alternative depending on needs and budget considerations. Plus, being able to drop a color printer in place and not having to worry about it again for at least a couple years is likely going make a lot of the IT folks pretty happy.