How New York Finally Found Its Place in the Tech Boom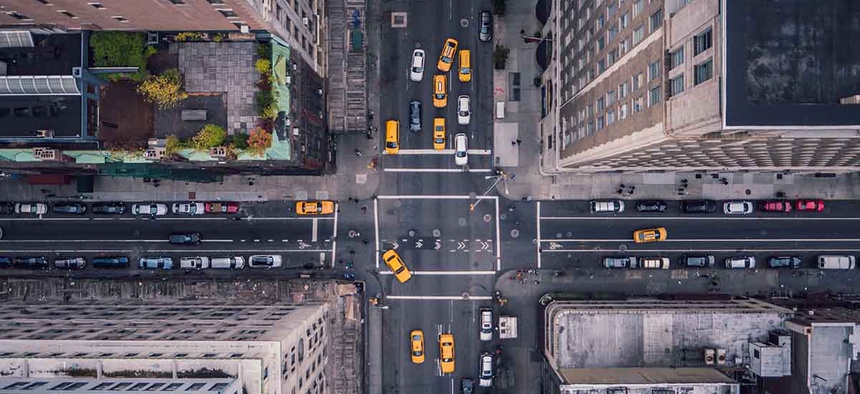 Finally, New York is a bona fide technology startup hub.
It's no longer a place with a gimmicky name—Silicon Alley—and an ephemeral tech scene that tries to be more than it is. There are venture capitalists with real money, entrepreneurs with ideas, and software developers who know the code.
Above all, New York has a corner of the vast technology world to which it can credibly lay claim as its own: fintech. This species of business, a conflation of the words "financial" and "technology," plays to the strengths of a city that still views itself as the global center of all things money.
"The real draw is the existing financial center," says Marco Santori, head of the fintech practice at the law firm Cooley. "There's a lot of money in Chicago, LA and Miami. But every aspect of the financial services industry is here."
Though it took the collapse of the internet sector from 1999 to 2001, New York has moved beyond Silicon Alley as a simple marketing tool. The revival of tech investment in the early 2000s and the global financial crisis led to the emergence of a diverse set of companies. A maturing workforce, fortified by defections from Wall Street, has developed. And investments in education infrastructure are coming.
A little history behind the "Silicon Alley" moniker: It originated in the 1990s as a label for an area in the Flatiron District and was closely tied to the crop of startups, many of them media-related, that sprang up during the dot-com boom—which fizzled spectacularly by the end of the decade.
Michael Indergaard, the author of "Silicon Alley: The Rise and Fall of a New Media District," described how it fit into the evolution of Big Apple business: "In part, Silicon Alley was the latest round in the long struggle to reinvent New York as a postindustrial city—a process that elite property interests began to promote while factories still dominated lower Manhattan," he wrote.
From the ruins of the dot-com bust came a more mature tech industry in New York, one less dependent on fickle media trends and more focused on services for which businesses and consumers would pay. Telecommunications, biotechnology and media (again) became mainstays in Silicon Alley, now a label for the industry in the entire region. But nothing fit Silicon Alley like fintech, which came into its own in the wake of the 2008 financial crisis.
The buzziest part of fintech has been Bitcoin, the digital currency created anonymously in 2008. But fintech is a big tent that includes the record-keeping technology that is part of the Bitcoin system; methods for clearing and settling securities trades; and payment systems, among many other things.
It didn't hurt that, under Michael Bloomberg, the city had a mayor who built his own technology firm for disseminating financial data and had a fetish for using data to improve municipal governance.
NYC SeedStart, a program backed by local economic development agencies, tried to accelerate the flowering of new firms with cash and advice. Bloomberg also held a competition to create a new graduate campus of applied sciences and engineering on Roosevelt Island. Cornell University and an Israeli institution won the nod for the $2 billion project.
This investment in education should go a long way toward developing a workforce that can get training and then consistent employment in the New York area.
The employment trends bespeak more fintech folks and fewer bankers. A 2014 study by Accenture found after five years of particularly torrid growth, about 150,000 people worked in the New York tech sector. By contrast, Citigroup projects employment in the traditional financial services business will decline from 2.6 million in 2015 to 1.8 million by 2025.
Jonathan Mohan, a fintech pioneer in New York, founded early networking groups centered on Bitcoin and related technologies. He says the area resembles other startup centers in its less-than-lavish compensation.
"There is work. It might not be as liquid as you'd like it to be," Mohan says. "But it's the history of all things tech: If you're a coder, you'll have no problem finding work. If you're developing concepts, that's much harder."
That said, the real money needs fintech.
Hans Morris, a veteran of Wall Street giant Citigroup and card network Visa, now manages Nyca Partners, a venture firm in New York that has invested in Lending Club, an online loan portal, and Cardwords, which develops software for credit card and installment loan processing. He is one of many executives who have cycled out of Wall Street and into fintech.
Morris says high finance needs fintech for a lot of reasons. Risk-taking is harder inside large, heavily regulated financial firms, so technology ventures can road-test ideas that might work on a larger scale. And technology startups have a knack for creating compelling user interfaces that big banks lack.
"Fintech is good at creating better consumer experiences," Morris says. "Those are table stakes at this point. You have to have them if anybody is going to use your bank."