Dems Question Secret Service's 'Monitoring' of Threats Involving Trump Events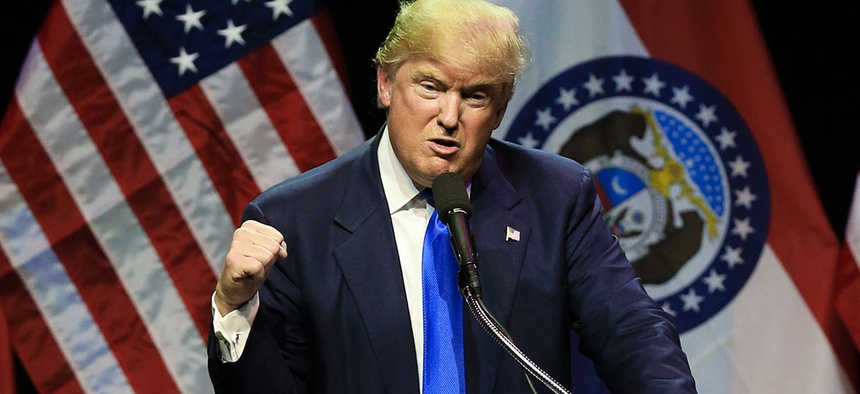 Two House Democrats on Friday evening said they are asking the Department of Homeland Security about monitoring techniques in play to protect Donald Trump, other presidential candidates and citizens from increasingly hostile behavior at campaign events. 
The announcement came hours before Trump called off a rally in Chicago amid violence, and a day before Trump was stormed by Secret Service agents when a protester tried to take the stage in Dayton, Ohio. On Thursday, The New York Times called protesting Trump the "riskiest political act of 2016." 
Homeland Security Committee ranking Democrat Rep. Bennie Thompson, D-Miss., and subcommittee ranking Democrat Rep. Bonnie Watson Coleman, D-N.J., said in a March 11 letter they want to learn about efforts "to maintain situational awareness and response capabilities related to the ongoing presidential campaign events."
In the letter, which is addressed to DHS Secretary Jeh Johnson, they voice concerns about more than a dozen previous incidents involving arrests or removals at candidate-related forums. 
On March 8, Trump protester Rakeem Jones, 26, was sucker-punched by a Trump supporter as law enforcement officers led the billionaire real estate magnate out of a Fayetteville, North Carolina, campaign rally.
"Given that the current presidential candidates include a former secretary of state, three United States senators, a governor, and a businessman, and at times, presidential campaign rallies attract over 100,000 people, public safety should be of utmost concern," the lawmakers said. 
Among the information requested in the letter are the names of the federal, state and local agencies DHS has shared "information collected from monitoring." The Democrats also want to see a list of all campaign-related affairs DHS has monitored or guarded. 
One way the Secret Service keeps tabs on threats, in general, is by tracking social media. Last September, the agency awarded a $1.7 million subscription for social media content from data analytics firm Babel Street, formerly known as Agincourt Solutions.
Agincourt in 2012 shed light on a controversy still dogging Trump rival Hillary Clinton, who was then leading the State Department. The company's independent analysis determined the first reference to an anti-Islam film initially blamed for sparking the Libya consulate attack that year was not detected on social media until a day after the bloodshed. 
It's unclear if the Secret Service's "open source intelligence monitoring system" was used March 2, when 20-year-old Eli Martinez tweeted, "I think I have to kill trump. None of y'all gon do it, I have to take measures into my own hands."
On March 3, Secret Service agents reportedly showed up at his home in the northwest suburbs of Chicago to determine if he was a real danger to the leading Republican presidential candidate. 
Martinez's experience allegedly mirrors those of other Twitter uses who spoke to Mashable. "If you send a tweet about taking out any presidential candidate, you can expect a visit from the Secret Service," the online publication reported.