Is the Digital Wave Creating a 'Never-Ending Work Day' for Feds?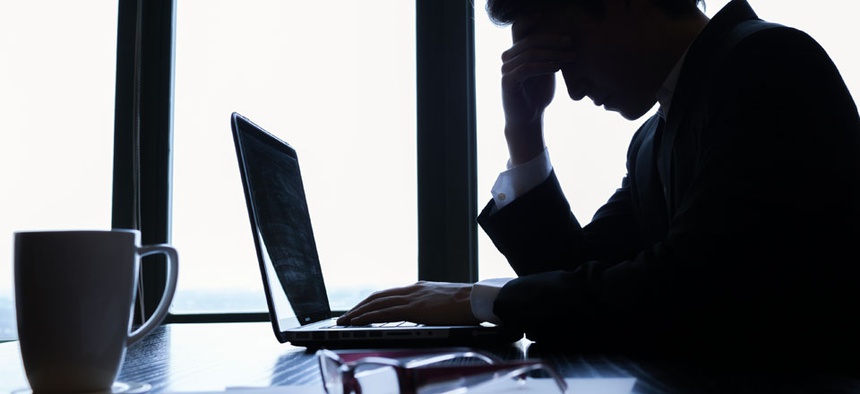 While federal managers are enthusiastic about the power of digital technology in the workplace, others worry it's actually upended a healthy sense of work-life balance.
Many federal leaders are enthusiastic about the power of digital technology to improve the way government workers get their work done.
But almost as many federal managers worry the rise of new technology has actually upended a healthy sense of work-life balance and could lead to "never-ending work days" that drain federal employees' morale.
That rift is revealed in a new survey examining agency leaders' views about technology in the federal workplace conducted by the National Academy of Public Administration and ICF International.
"There's a dichotomy -- an almost even split -- between those in the survey who really thought that digital technology benefited them ... and those who saw that technology actually became more of a tether," said Dan Chenok, executive director of the IBM Center for the Business of Government.
Chenok, who was a member of the five-person panel that drafted the survey and analyzed the results, spoke last week at an event unveiling the survey results.
By overwhelming margins -- nine out of 10 -- federal leaders surveyed say they've embraced digital technology in the workplace, in part, because of the promise of enhanced productivity.
Nearly three-quarters of respondents reported using an agency-issued smartphone to get their work done. Nearly half reported using a personal device for work.
Meanwhile, "solid majorities" reported the productivity of their agency had "significantly improved as a result of digital technology" and that agencies' digital investments "have improved or transformed their operations."
But when asked to rate how the use of digital technology has affected them personally, respondents were feeling a bit less enthusiastic.
While 37 percent of federal leaders said it has improved their work-life balance, another 35 percent reported it's had actually harmed it. About 27 percent of respondents said digital technology hadn't affected their work-life balance.
Even with the benefit of more flexible work environments, the always-on, always-available nature of digital technology "risks creating never-ending workdays that can adversely impact workers' quality of life," a report accompanying the survey results stated. "Such issues may drive lowered morale, increased turnover and -- ultimately -- lower productivity."
One respondent suggested the ease of staying connected via smartphone has many workers feeling chained to their emails at all hours.
The promise of "24/7 access via many mediums is great, but we have not learned how to control expectations or use email as effectively as possible," the anonymous respondent said. "Expectations for quick answers far outweigh the real need and the ability for one to do real work in between electronic engagement."
The report recommended getting agency chief information officers and chief human capital officers to sit down together and come up with written policies "so it's not a secret what's expected of workers," Chenok said.
Chenok said federal leaders also need to lead by example.
"It's clear that any boss that sends lots of emails between 2 and 4 in the morning is setting an expectation about the culture," he said. "Perhaps there should be training of managers about how to communicate with their employees."
(Image via KieferPix/Shutterstock.com)