Intelligence Community Needs More Than a Few Good Women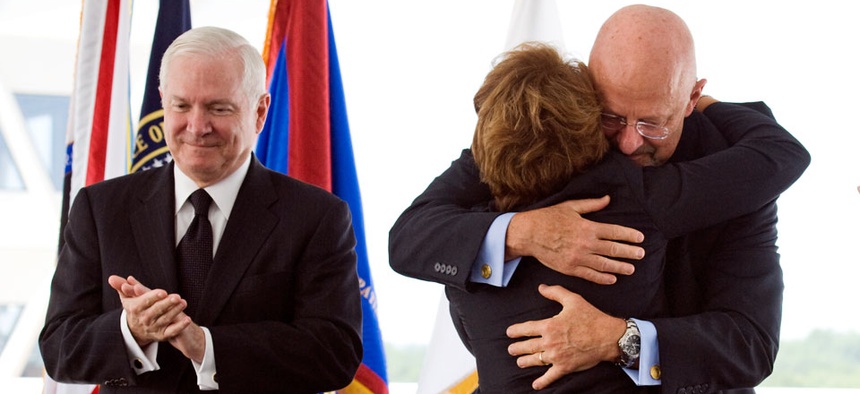 It's no secret the intelligence community's reputation has taken a drubbing in recent years.
Maybe the solution is more women in leadership roles.
"I believe that many of the missteps and mistakes that the intelligence community has made over the years happened, at least to some extent, because a bunch of guys, who all look a lot like me, were the only people sitting at the table when decisions were made," Director of National Intelligence James Clapper said recently. "Well, that's all changing now."
The DNI may be persona non grata in many liberal circles, thanks to his defense of the National Security Agency's online surveillance that privacy advocates say is intrusive and even unconstitutional. But they may find common cause with him in his role as a fierce advocate of a diverse workforce.
Clapper made his comments Oct. 3 at the National Geospatial-Intelligence Agency at a change of leadership and retirement ceremony for Letitia Long, the first woman to head a major intelligence agency.
Long, who started her intelligence career in the Office of Naval Intelligence, rose through the ranks over her 36-year career, becoming the first chief information officer at the Defense Intelligence Agency, and in 2010 breaking the intelligence world's glass ceiling when President Barack Obama named her NGA director.
"It is absolutely critical -- critical -- for the IC to have a diverse workforce that reflects not just our nation but also the world that we work so hard to understand," Clapper said in his remarks at her retirement ceremony.
Equally critical? Diverse intelligence leadership, Clapper said.
"The IC needs people in leadership positions who think differently than I do," he explained. "People with different experiences and with opinions different than my own. After all, I already know what I think."
It's a theme Clapper has explored before.
Last March at the intelligence community's Lesbian, Gay, Bisexual, Transgender Allies Summit, Clapper, who mentioned he helped restore the security clearance of a gay intelligence analyst after it had been revoked in the 1980s, made a similar pitch for diversity.
"Inclusion isn't just about what's altruistically right," he said. "It's also about what the IC is all about: integration."
At her retirement ceremony, Long praised some of female vanguards in the intelligence world, who helped put the first cracks in the glass ceiling Long eventually vaulted through. They included Joan Dempsey, the first deputy director of the Central Intelligence Agency for community management, and Terry Roberts, the former deputy director of naval intelligence.
They "showed me that women not only deserved a place at the table; we also deserved to sit at the head of the table," Long said.
As for Long's accomplishments, "we couldn't have had a better trailblazer," Undersecretary of Defense for Intelligence Michael Vickers said at her retirement ceremony. "And you've started a trend."
Among the women taking on leadership posts in Long's footsteps are Betty Sapp, the director of the National Reconnaissance Office, Avril Haines, the deputy director of the CIA, and Stephanie O'Sullivan, Clapper's principal deputy whom he has likened to "co-DNI."  
However, it's still difficult to tell if these high-profile appointments are trickling down to the level of the rank-and-file workforce.
A 2009 U.S. News and World Report article found women accounted for about 40 percent of the IC's workforce. Nextgov reached out to the Office of the DNI for updated statistics, but our emails were not immediately returned.
Overall, women make up about 43 percent of the federal workforce.