Hearing: VBA Changed Dates on Claims to Make Them Look New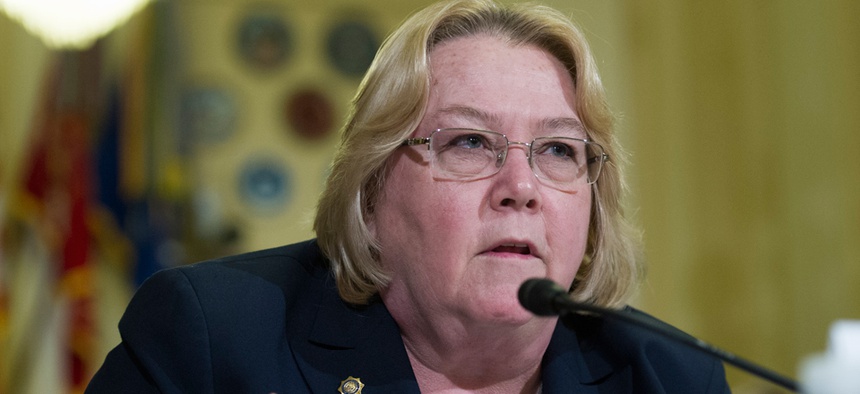 The Veterans Benefits Administration changed dates on claims to make them appear new, manipulated data, and misplaced and possibly shredded thousands of claims documents, VBA employees and the Department of Veterans Affairs inspector general told a House VA committee last night.
VBA employees who testified at the epic hearing, which started 7:30 p.m. Monday and ended 12:57 a.m. Tuesday, also depicted VBA as an organization focused on narrow production goals designed to eliminate the claims backlog rather than doing quality work. Testimony also highlighted reported workplace retaliation -- including termination -- if VBA employees raised quality issues.
Linda Halliday, assistant inspector general for audits and evaluations, told the hearing the IG had confirmed reports from the Philadelphia VA regional office that dates on some overlooked and misplaced claims files had been updated with the date they were found, rather than the date they were submitted
Halliday told the hearing her office had received complaints of similar practices from employees at VA regional offices in Baltimore, Little Rock, Los Angeles and Oakland.
"We are concerned at how quickly the number of [regional offices] with allegations is occurring," she said.
Allison Hickey, VA undersecretary for benefits, said this resulted from a now rescinded May 2013 memo to update claims with the date they were found or "discovered" -- a practice she called "pro-veteran," as it sped up processing. Compensation to veterans, however, starts from the date the claim was originally filed, not at a later "discovered" date.
Kristen Ruell, an authorization quality services representative at the Philadelphia regional office, said she discovered 96 boxes containing what she estimated were thousands of claims files headed for the shredder. Ruell could not say for sure they were shredded because that would have required her to climb aboard the shredding truck, which another employee told her might lead to her shredding.
Hickey could not definitively tell the hearing whether those 96 boxes were shredded, but did surmise they were awaiting disposal after the paper files were scanned into the Veterans Benefits Management System.
In a related development, the IG reported yesterday 9,500 documents and 80 claims folders were found inappropriately stored in a supervisor's office, delaying the processing of those claims.
Javier Soto, executive vice president of the American Federation of Government Employees union at the St. Petersburg, Florida, VBA regional office, said he wrote and circulated a memo June 24 critical of quality-control procedures at that office. He told the hearing he was terminated June 30 because his "services were no longer needed," with no explanation for cause.
Rep. Doug Lamborn, R-Colo., repeatedly pressed Hickey to explain Soto's firing and detail how many VBA employees are terminated without explanation. Hickey said she learned of Soto's firing at the hearing, found it unusual and promised to get back to the committee with details on the termination.
Hickey had a good-news story for the committee on reduction of the claims backlog, which she said dropped 55 percent from a peak of 611,000 in March 2013 to 275,000 yesterday. Committee Chairman Jeff Miller, however, did not buy that silver lining. He told Hickey and her colleagues at the hearing that based on IG reports and witness testimony, "I don't believe anyone [from VBA] is telling me the truth about the claims backlog."