TSA Plans to Profile Your Suitcase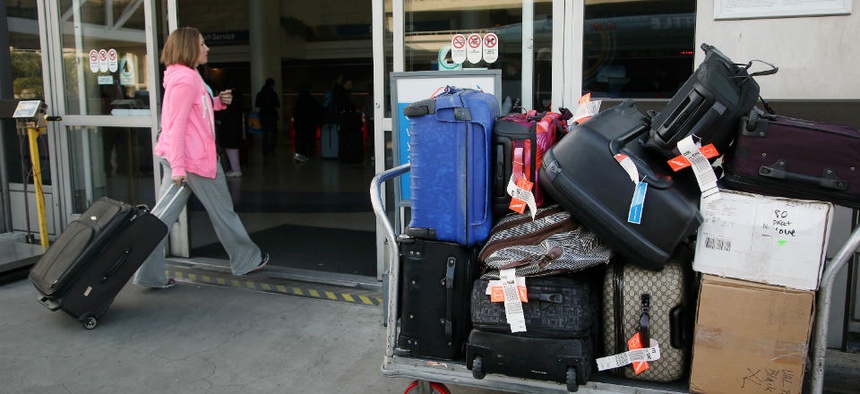 The Transportation Security Administration is funding a system that will electronically cross-check baggage tags with a passenger's identification documents to determine the riskiness of the bag and how thoroughly to inspect it, according to a new strategic investment plan. 
The technology will "read risk of bags" by networking together the No Fly list, the flier's credentials and the flier's luggage as the suitcase goes through screening, in almost real time, the plan explains.
The system will be a "core" investment for the agency, along with activities such as training canines to sniff explosives on passengers and developing body scan algorithms to automatically spot threats so passengers don't have to remove shoes and liquids, the strategy states.
"These investments address known threats and inefficiencies and should yield capabilities within 24 months," TSA officials said. 
Core investments will account for the majority -- 70 percent -- of the $2.2 billion the agency might spend on technology, procedures and infrastructure over the next five years, according to the plan.
Drivers' licenses, passports, and boarding passes -- including e-tickets displayed on smartphones, are among the documents that TSA considers credentials, according to contract documents. 
Today, there is no way to link a passenger with that individual's checked baggage while it is being vetted, so every item "receives the same level of screening regardless of the passenger's risk designation," the TSA officials said.
The release of the strategy coincidentally came days after a May 25 incident where TSA missed two AK-47 assault rifle clips in the checked baggage of a suspicious Yemeni national who was preparing to fly back home on a one-way ticket.  
"The empty bullet clips were found by a customs official despite the checked bags having already been checked at JFK [Airport] by the TSA," the Daily Mail reported. 
Critics note the agency did not study the pros and cons of the new screening system or invite public feedback, before moving ahead with development. 
"If TSA hasn't done a public risk management and cost-benefit study that justifies all this, it's probably not cost effective," said Jim Harper, senior fellow at the libertarian Cato Institute.
TSA officials said they have not conducted such studies yet because they expect the plan will stimulate thoughts on enhancements. 
The plan is "a step to foster a renewed dialogue with industry stakeholders," TSA spokesman Ross Feinstein said in an email. "This initial document aims to encourage collaboration and generate new ideas and areas for refinement."
"As TSA continues to move away from a one-size-fits-all approach to transportation security, we are looking for more opportunities to provide the most effective security in the most efficient way possible," he added.