Software Continues to Plague $397 Billion F-35 Project, GAO Finds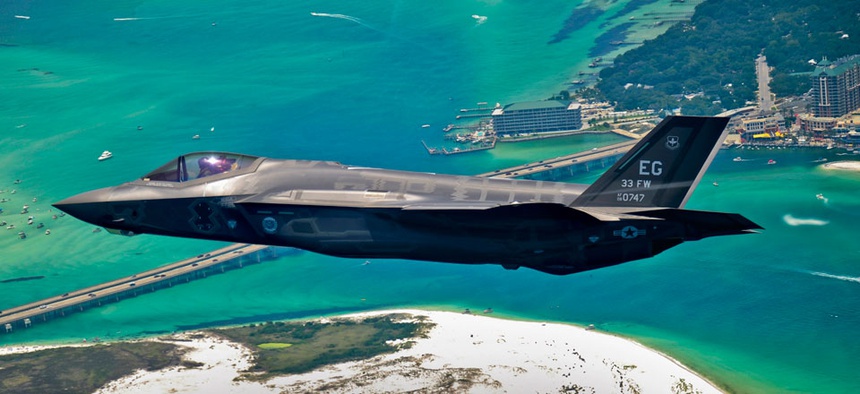 Slow progress in developing, delivering and testing mission systems software for the F-35 Joint Strike Fighter "continues to be the most significant risk area" for the $397 billion tri-service project, the most expensive in history, the Government Accountability Office reported.
The GAO report on F-35 software echoed a Pentagon report that found the F-35 suffers from such severe software problems that the aircraft could not conduct operational missions today. GAO in its report released Monday said the Air Force, Navy and Marines may not be able to afford the $12.6 billion a year budget through 2037 to buy 2,457 aircraft.
Contractor Lockheed Martin Corp. develops the F-35 software in three blocks. The first is designed to support training, followed by a second block for initial combat operations. The final block for full combat operations is expected in 2019, 23 years after the Pentagon signed the initial F-35 contract.
GAO reported that developmental testing of Block 2B software is behind schedule and will likely delay the delivery of expected warfighting capabilities. Block 2B software, designed to manage missiles and bombs, was supposed to have been ready for use at the end of 2012.
"The delivery of this software capability is of high near-term importance because it provides initial warfighting capability for the overall F-35 program, and is needed by the Marine Corps to field its initial operational capability in July 2015," GAO said.
As of January 2014, the program planned to have verified the functionality of 27 percent of the software's capability onboard the aircraft, GAO said,  which "leaves a significant amount of work to be done before October 2014, which is when the program expects to complete developmental flight testing of this software block." 
Referring to the Pentagon report, GAO said this means developmental testing could be delayed by 13 months. "Delays of this magnitude would mean that the Marine Corps will not likely have all of the capabilities it expects in July 2015, its planned initial operational capability date," for its short take-off and vertical landing version of the F-35, the GAO report said.
GAO said if progress in mission systems software testing for the Marine F-35 version continues to be slower than planned, Air Force and Navy initial operational capabilities may also be affected
Lockheed and the F-35 program office official recognize the software risks, but told the GAO they expect to meet currently planned software delivery schedules.
Get the Nextgov iPhone app to keep up with government technology news.