Pentagon to Ask for More Cyber Spending in Next Budget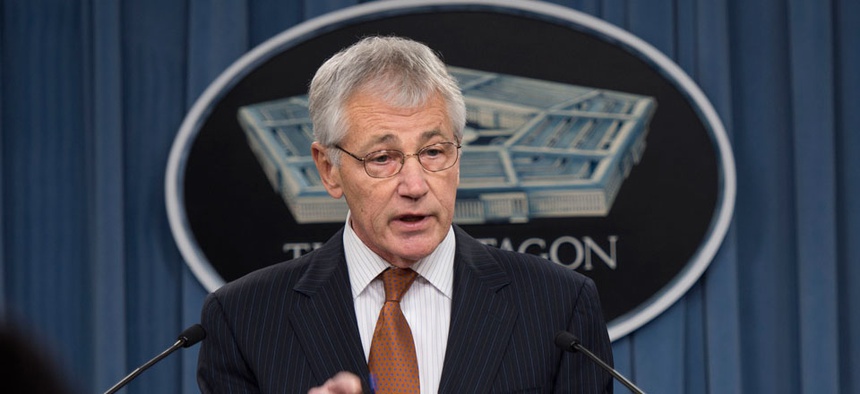 The Pentagon's cyber budget will get a boost as part of the department's fiscal 2015 budget request, Defense Secretary Chuck Hagel said Tuesday.
"We are adjusting our asset base and our new technology," the Pentagon's top official said, adding that the department will increase spending to help improve its cyber capabilities, including a larger focus on cyber security, intelligence gathering, and reconnaissance.
The department's budget request will be released March 4, as part of the Obama administration's budget, and the secretary is expected to offer a preview Monday. Hagel and other top Defense officials have largely sidestepped questions about what spending they are asking to have increased—or what programs to cut.
"Of course, it's going to shift the proprieties and the balance of forces, and where you invest your money to be able to ensure readiness for your forces, capability, … and capacity," Hagel said.
The Defense Department, he said, is in a time of transition, dealing with a budget crunch and adjusting its focus as it wraps up major U.S. troop involvement in two wars.
Officials previously said they would request $542 billion for the upcoming fiscal year, but December's budget agreement put base spending for the Pentagon at about $498 billion.
Funding aside, the department's increased focus on cyber doesn't come without its own road bumps, Hagel said.
"One of the complications we have is there's a line … between the private sector and the Defense Department," the secretary said, while acknowledging that the department already has a "tremendous capacity" to deal with the growing cyber threat.
It's not the first time Hagel has sounded the alarm on DOD's increased focus on cyber, and he's not alone. Defense officials called cyberattacks the greatest threat to national security in a Defense News Leadership poll released earlier this year.
And FBI Director James Comey, then-acting Homeland Security Secretary Rand Beers, and Matthew Olsen, the director the National Counterterrorism Center, pressed the Senate Homeland Security and Governmental Affairs Committee for greater cooperation between the government and corporations on boosting cybersecurity.
Although the White House released guidelines to help businesses defend themselves earlier this month, they're voluntary, and it's unclear how much the administration can do to enforce the standards without legislation from Congress.
Hagel's comments came during a wide-ranging Q&A at Congregation Beth El in Bethesda, Md., on Tuesday night; the session is part of the synagogue's "Conversations with Key American Leaders" series with Ken Feinberg, an attorney who oversaw the 9/11 Victim Compensation Fund.