Why You Shouldn't Use a Laser-Equipped Gun as a Presentation Tool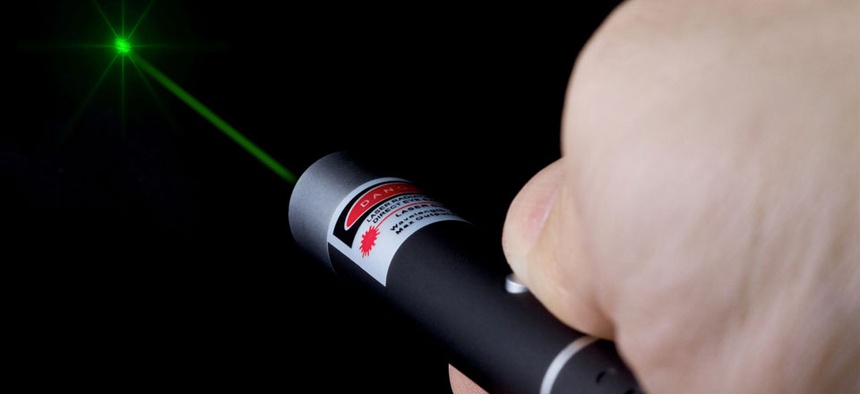 There's a time and place for laser pointers, those tiny, handheld devices that emit a steady stream of light. Middle-school classrooms, for one. Boardroom presentations, for another.
This concept evades some New Yorkers, like Gov. Andrew Cuomo's homeland security chief, who have found other, creative uses for the technology. The laser pointer Jerome M. Hauer used to point to something during an October presentation on the response to Hurricane Sandy was attached to the barrel of his handgun, according to a new report from Albany's Times Union. The move shocked the Swedish officials in attendance:
These officials, one of whom claimed to be an eyewitness, said that three Swedish emergency managers in the delegation were rattled when the gun's laser tracked across one of their heads before Hauer found the map of New York, at which he wanted to point.
Moral of the story: Don't use your laser-equipped gun as a presentation tool.
Other New Yorkers have used laser devices to point at something much farther away, like airplanes. In 2013, reports of laser pointers aimed at runway-bound planes jumped 17 percent compared with 2012, from 64 incidents to 75, The New York Times reported in October.
Such beams of light can easily distract pilots, and even temporarily damage their vision. "Several commercial pilots earlier this year suffered significant injury, including a burnt retina," The Times wrote.
At the hands of the average troublemaker, the beam from a laser pointer appears to end a few hundred feet away. In reality, a pilot can clearly see the light from a low-powered laser more than two miles away, and from a powerful laser more than seven miles away, according to Laserpointersafety.com, which tracks reports of the devices aimed at airplanes.
U.S. pilots report seeing or being illuminated by laser beams about 10 times a night, according to the website. The people behind the beams risk more than the confiscation of their tiny devices if they get caught: Pointing a laser at a plane has been a federal crime since 2012.
(Image via Robin Lund/Shutterstock.com)