Yes, the Army will still be relevant, even after Afghanistan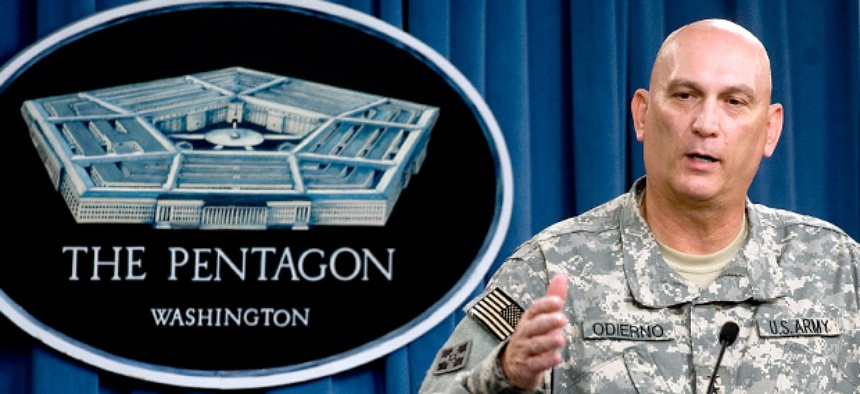 The Army does not need a bumper sticker to sum up its relevance as the Pentagon shifts its focus from 11 years of ground war in the Middle East to the air and sea forces needed to support the new military strategy centered on the Asia Pacific region that President Obama unveiled in January.
Army Chief of Staff Gen. Raymond T. Odierno said he was "frustrated" with questions on how the service would fit into a strategy that emphasized the air-sea battleground, adding there is "a large role for the Army" in the new strategy. Whatever the focus, the Defense Department needs a flexible ground force that, among other things, provides extensive logistics support to the other components. Any military strategy must include a balance of forces, Odierno told a press briefing at the Association of United States Army's annual meeting Monday.
Army Secretary John McHugh said the service considers itself a "full partner" in development of the Pentagon's "air-sea battle" strategy and pointed out that the armed forces for 22 of 28 Asia-Pacific nations are led by land force commanders.
As the Army prepares for a shift of focus, Odierno said it must develop a network that "reaches down to every soldier" on the battlefield and delivers the "right information" in a complex tactical environment.
The ongoing Army Network Integration Evaluation Exercise, which runs through November at White Sands Missile Range, N.M., includes tests of systems that will support a critical piece of the service's next-generation tactical network -- command and control on the move, Odierno said.
The Defense Acquisition Board in September cleared production of the Warrior Information Network-Tactical Increment 2, built by General Dynamics C4 Systems, which provides broadband communications capabilities via satellite or terrestrial signals for infantry companies, brigades and divisions. It is designed to provide on-the-move command-and-control capabilities.
Paul Mehney, a spokesman for the Army's System of Systems Integration Directorate, said on Oct. 2 that WIN-T Increment 2 still faces what he called "challenges" with high-band networking waveform for terrestrial communications, a 30-meter tall mast to extend range; and the soldier network extension, which is intended to provide network connections to company commanders.
The Army plans to spend $6.1 billion on WIN-T through 2018.