U.S. and Israel kick off their largest-ever joint military exercise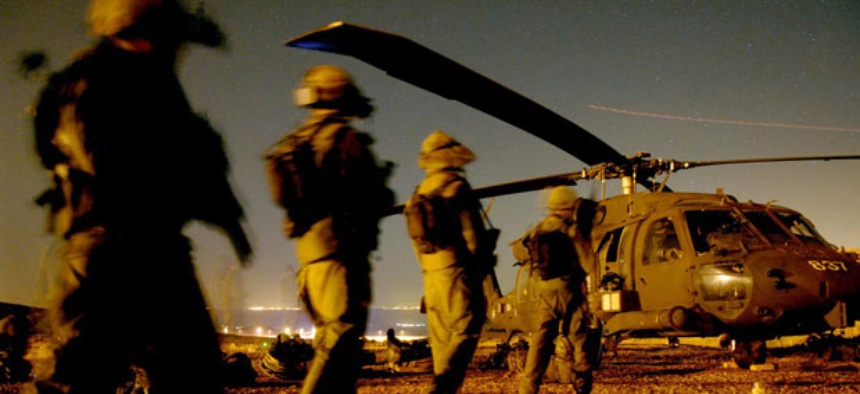 The communications exercise also emphasized systems security, adopting approaches similar to the U.S. military's, including the use of smart cards to access computer systems, data compartmentalization and cloud storage, IDF said.

Israel and the United States will conduct their largest joint military exercise to date next week, following this week's "war drill" to test Israeli digital battlefield communication systems.

The Austere Challenge 2012 anti-missile defense exercise will include 1,000 U.S. troops, as well as Army Patriot and Navy Aegis missile defense systems, Air Force Lt. Gen. Craig A. Franklin, commander of the 3rd Air Force, told reporters Wednesday during a joint teleconference with Brig. Gen. Nitzan Nuriel of the Israel Defense Forces.

The three-week exercise also will test Israel's Iron Dome and Arrow anti-missile systems and the "David's Sling" anti-missile system under development by Raytheon and Rafael Advanced Defense Systems of Israel.  

U.S. troops will operate at various locations in Israel throughout the exercise, which will test the cooperative missile defense of that country, the Pentagon said.

The scenario for the exercise is not aimed at any specific threat or country in the region, both Franklin and Nuriel said, although others view both drills as demonstrations of power and collaboration to send a stern message to Iran.

"This exercise is purely about improving our combined U.S.-Israeli capabilities," Franklin said.  "It's about military teamwork. It is not related to national elections or any perceived tensions in the Middle East. We are military professionals coming together to train for a defensive mission."

Kenneth Katzman, a Middle East specialist for the Congressional Research Service told Bloomberg Businessweek that the exercise is "no doubt intended at least partly to showcase that extensive U.S.-Israeli military cooperation continues despite the differences between the two nations over the immediacy and scope of the threat posed by Iran's nuclear enrichment program."

Israel Defense Forces reported that its Channel Battalion, part of Division 162, this month conducted an intensive and complex test of its Digital Ground Forces 600 system, which bundles tactical communications equipment in a system of systems approach used by the U.S. Army, according to Elbit Systems, developer of the Israeli system.

The "Hunter" portion of the Israeli Digital Army System operates much like the Blue Force Tracker system used by the U.S. Army to identify hostile and friendly forces on a battlefield.

Hunter also "allows units to share information on the location of friendly and hostile units, much like a GPS program in your car or phone enables you to easily locate restaurants or sites," an IDF blog post said. "In this way, all of the participating units are able to stay updated with the location and moves of other units, and focus on winning the fight rather than on gathering information."

Commanders can upload information about their squad, including its position, number of soldiers and weapons cache, and Hunter then determines whether soldiers need more ammunition or supplies and automatically requests missing items.

Lt. Col. David Zriam, commander of the Channel Battalion, said the systems tested in the recent exercise allow commanders to digitally integrate intelligence and tactical data on computer screens.