Obama administration weighing more aggressive medical isotope policies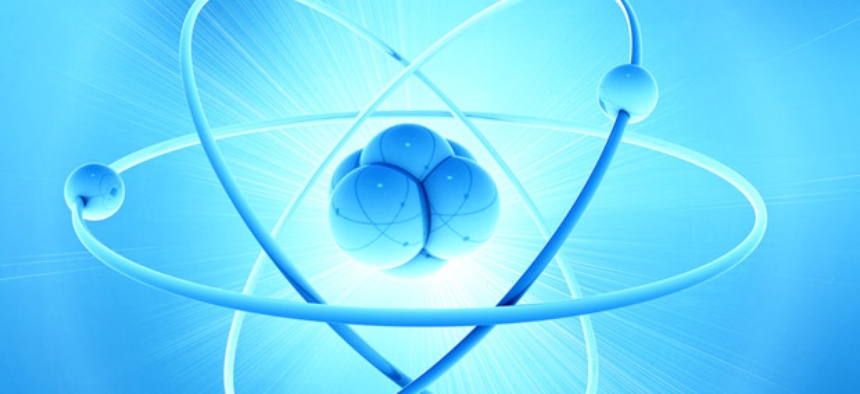 Recently announced White House measures aimed at promoting the purchase of medical isotopes manufactured with proliferation-resistant nuclear material do not go as far as actions the Obama administration considered earlier this year, internal documents obtained by Global Security Newswire show.

For example, while the White House in a Thursday release said it would look to favor buying medical isotopes produced without the use of bomb-grade uranium through unspecified "government entities," a presentation made at a meeting with unidentified private stakeholders in March suggested the administration had specifically looked at restricting Medicare and Medicaid dollars to this end.
The presentation, made by National Nuclear Security Administration officials, also suggested the possibility of establishing unspecified regulations or taxes on the sale of medical isotopes produced with highly enriched uranium, an option not listed in the White House release.
Spokespeople for the administration say such options are still under consideration, although it is unclear how quickly they could be implemented.
Isotopes such as technetium 99 – a product of the decay of molybdenum 99 -- are used widely in medical diagnostic procedures to detect a variety of heart and other illnesses.
In recent years, the National Nuclear Security Administration has supported U.S. efforts to develop technology that would enable manufacturing of isotopes using low-enriched uranium, which cannot be readily used to construct a nuclear weapon if it falls into the wrong hands.
The United States historically has been a key supplier of weapon-usable highly enriched uranium for other nations' reactors. However, it has sought to reverse that trend and this year joined with a group of western European nations in an agreement intended to reduce the amount of medical isotopes produced with HEU material by 2015.
Some lawmakers and issue experts, though, fear that a recent agreement for a Russian company to supply a Canadian isotope producer with highly enriched uranium will undercut these efforts. Producing medical isotopes with low-enriched uranium is more expensive, experts note, meaning it will be difficult for U.S. companies developing this burgeoning technology to compete.
Amid these concerns, the White House on Thursday released a list of initiatives intended to boost efforts to produce the isotopes with uranium unsuitable for weapons.
The White House said it would call on the molybdenum 99 industry to "voluntarily establish a unique product code or similar identifying markers for Mo-99-based radiopharmaceutical products that are produced without the use of" highly enriched uranium."
The administration would also take "steps to further reduce exports of [highly enriched uranium] that will be used for medical isotope production when sufficient supplies of non-HEU produced Mo-99 are available to the global marketplace" and continue to "provide support to international producers to assist in the conversion of Mo-99 production facilities from" highly enriched uranium to lowly enriched uranium," according to the White House release.
The mention of possible regulations or taxes on the sale of medical isotopes produced with highly enriched uranium in the NNSA presentation – along with other more specific actions -- suggests the administration has considered going further than the measures detailed in the White House statement.
The absence of the option involving regulations or taxes in the public statement in particular has prompted some concern from nonproliferation advocates.
Alan Kuperman, coordinator of the Nuclear Proliferation Prevention Project at the University of Texas, called a lack of regulations or taxes in the White House plan a "glaring omission." In Kuperman's view, such options would provide "the most effective way of discouraging Russia and Canada from proceeding with their plans to massively expand production of" medical isotopes using highly enriched uranium.
Kuperman speculated the White House is not pursuing regulations or taxes "because it would require legislative action, whereas the [other actions] could be done arguably by the administration alone.
"I hope Congress will take such action and that the administration will support it," Kuperman told GSN.
White House spokeswoman Erin Pelton on Monday said the possibility of regulations or taxes "is not off the table and remains under evaluation." However, "it is an option that has a considerably longer time frame," she said by e-mail.
Led by Kuperman's group, a coalition of nonproliferation and medical experts raised concerns about the issue in a January letter to Representatives Jeff Fortenberry (R-Neb.), Fred Upton (R-Mich.) and Edward Markey (D-Mass.).
"The Russian isotope producer has signed a contract with the Canadian company that traditionally has been the main supplier [of medical isotopes derived from molybdenum 99] to the United States, aiming to replace production that is slated to cease at an aging Ontario reactor by 2016," the letter said.
The letter calls for amending legislation the Senate approved last year in order to promote production of medical isotopes without the use of highly enriched uranium, to address the concern about Russian manufacturing when the legislation is taken up by the House. It encourages lawmakers to add a "preferential procurement" provision to the bill that would encourage the purchase of medical isotopes not produced with highly enriched uranium through the imposition of taxes or by other means.
Fortenberry and Markey also raised concerns about the issue in a May 2011 letter to President Obama. The lawmakers said the Russian "plan poses a direct economic threat to nascent domestic efforts to develop a stable source of medical isotopes."
The White House list of actions includes preferential procurement "through certain U.S. government entities" of medical isotopes produced without highly enriched uranium "whenever they are available." However, the announcement does not identify any specific agency that would engage in this practice.
The NNSA documents indicate administration officials in March were considering an option that would involve restricting Medicaid and Medicare dollars from being spent on medical isotopes manufactured through the use of highly enriched uranium.
The advantages of this approach, the NNSA documents say, is that federal dollars would be used to purchase a product that is consistent with U.S. nonproliferation policy. In addition, such a policy could be implemented by the U.S. Health and Human Services Department through existing programs and would not necessitate new government initiatives.
There could be downsides to this approach however, including that it too might require a statutory change by Congress, the documents say. In addition, enforcement of the policy could be difficult because Medicare and Medicaid are "not primary purchasers," the documents say, without providing additional detail.
Health and Human Services spokesman Brian Cook on Monday said the administration "continues to consider this option but is still exploring opportunities and constraints." The White House release is therefore "not intended to encompass any new specific options," he said.
"Some options require greater changes in the underlying statutory, regulatory, radiopharmaceutical industry and healthcare delivery infrastructure than others," Cook said by e-mail. "For example, restricting Medicaid/Medicare dollars requires the ability to identify HEU-based Mo-99 products at the point of delivery."
According to the March presentation, another option that could also be implemented by existing programs managed by the HHS Centers for Medicare and Medicaid Services would be reimbursing medical procedures utilizing isotopes from non-highly enriched uranium sources at a higher rate. The presentation characterizes this as a "budget neutral" option that could "potentially mobilize non-federal purchasing power."
The White House's Thursday release said the administration is "[e]xamining potential health-insurance payment options that might promote a sustainable" supply of medical isotopes produced without the use of highly enriched uranium, but did not provide any additional detail. Cook said the White House statement was meant to encompass the Medicare and Medicaid options cited in the March documents, "as well as other options for payment change to achieve [the] broad goal of using payment to promote a sustainable non-HEU supply of Mo-99.
"Those options are still being actively evaluated with the expectation that any Medicare payment changes that might be adopted would be proposed using the typical annual Medicare rate setting process," Cook said.