Army eyes new first-person shooter game to train soldiers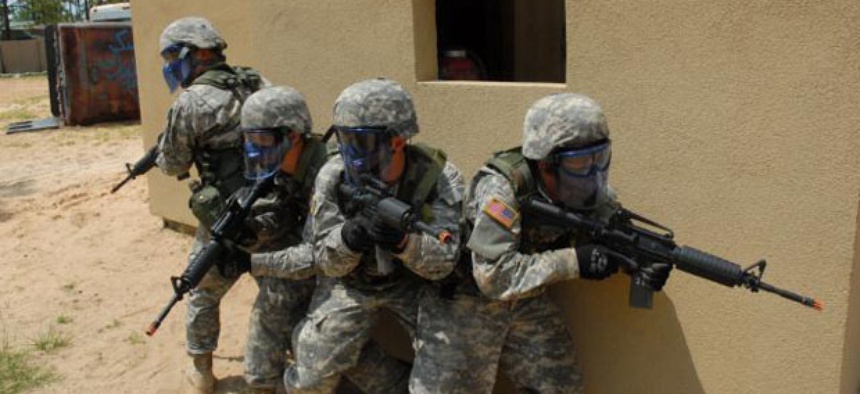 The Army is looking to roll out a new simulated war game to train soldiers on the battlefield,contract databases reveal.
The goal is to offer soldiers an upgrade to the first-person shooter training game Virtual Battlespace 2, a Bohemia Interactive Simulations program that the military already deploys. The Army is seeking new features such as "higher fidelity graphics" and a game that works "across PC-platforms, Web-based and mobile," according to the notice.
The U.S. Army Program Executive Office for Simulation, Training and Instrumentation is estimating the upgrade could cost $44.5 million over five years for a new game. A Bohemia Interactive Simulations spokesperson did not immediately respond to a request for comment.
The envisioned game will train soldiers to recognize explosives, become acquainted with cultural norms of foreign territories, and pick up survival skills. The Army may also seek out a massively multiplayer online game element, which would allow users to interact in an immersive world.
The game must be able to integrate with other gaming software tools that the government has already procured, such as modules for medic training, so that products that have already been developed can be reused.
The Army is trying to gauge preliminary interest from game studios and is soliciting questions and feedback to finalize program costs and contract schedules. Responses are due July 12.
The military has been more aggressively pushing out other games for training, as the threat of budget cuts makes virtual training a more practical alternative. The Army's Dismounted Soldier Training System, made by game studio Intelligent Decisions, would offer a $57 million "360 degree surround sound" set-up to prepare troops for in combat situations, according to a statement.