Defense and VA tap vendor to save clinicians from multiple log-ons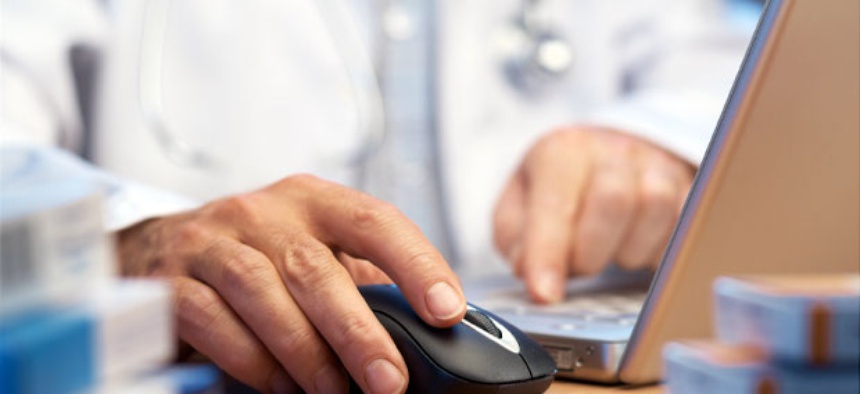 The Defense and Veterans Affairs departments have selected Harris Corp. to provide a key piece of software for their integrated electronic health record system, Nextgov has learned.
The software will provide quick and secure access to patient care information in multiple applications. Harris won out after a side-by-side evaluation with a similar system developed by Microsoft Corp. at the Capt. James A. Lovell Federal Health Care Center, a jointly operated Defense-VA hospital in North Chicago.
Defense Secretary Leon Panetta and VA Secretary Eric Shinseki will tour that hospital Monday and hold a press briefing, where they are expected to detail their impressions of the joint IT systems in use and their future plans for the integrated health records, which are scheduled for initial deployment in two years.
Harris won an $80.3 million VA contract in March to develop a middle layer software, known as an enterprise service bus, for the integrated health record system. The company also was quietly tapped by both departments earlier this year to provide single sign-in software for the iEHR on a trial basis. That software offers easy access to multiple patient care applications, according to an internal presentation by Lt. Cmdr. Donna Poulin, chief information systems officer at Lovell.
Poulin, speaking at the Tri-Service Medical Information Symposium this February in Las Vegas, said the Lovell hospital has tried two sets of single sign-on software: the package from CareFx, a company Harris acquired in April 2011, and one from Sentillion, which Microsoft acquired in February 2010. She said Defense and VA opted to go with "CareFx as the joint enterprise single sign-on with context management for [the] iEHR," but did not say when that decision was made.
Single sign-on software securely stores passwords for multiple clinical applications. Context management allows a user to select a patient in one application and have it transfer to other applications, eliminating the need to reselect the patient. The Ponemon Institute, a Travis City, Mich., research firm reported in 2011 that the average clinician spends 122 hours a year accessing patient applications due to requirements for multiple log-ins with multiple pass words.
Dr. Frank A. Maldonado, a Lovell clinician, and Poulin both said in a presentation at the Healthcare Information and Management Systems Society conference this February in Las Vegas that one of the benefits of using Sentillion is it can access Web applications in the VA Veterans Health Information Systems and Technology Architecture electronic health record system but CareFx cannot. Sentillion, however, requires input of two identity numbers to access VA and Defense systems while CareFx needs only one, making it more efficient.
Maldonado and Poulin said the CareFx single sign-on software was installed in the Lovell hospital by Vangent, a company acquired by General Dynamics in September 2011. CareFx said in March it had reached an agreement with Vangent to supply its single sign-on software throughout the Military Health System.
This adds another key piece of Defense software to development of the iEHR, increasingly dominated by the Pentagon. The Defense health record architecture will serve as the baseline for the iEHR. The Defense Manpower Data Center will provide identity management services and the Defense Information Systems Agency will store the electronic health records in its data centers, Dr. Jonathan Woodson, assistant secretary of Defense for health affairs, told Congress in an April report.