Video: Discovery shuttle hitches a ride to Washington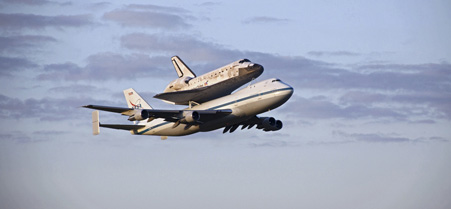 NASA
NASA 905, one of two modified Boeing 747 jetliners known as Shuttle Carrier Aircraft, flew from Florida to Washington Tuesday morning to deliver the Discovery shuttle to the National Air and Space Museum's Udvar-Hazy center.
Shuttle Carrier Aircraft also will transport the Enterprise shuttle to the Intrepid Sea, Air and Space Museum in New York City and the Endeavour shuttle to the California Science center in Los Angeles. The shuttle Atlantis will remain at the Kennedy Space Center in Florida.
These journeys serve as a final celebration of the Space Shuttle program, which began in 1981 and wrapped up in 2011 with the final launch of Atlantis.
With the shuttle program over, uncertainty remains about NASA's future. A report released in February found that the agency continued to rely on old technology, even after the shuttle program's conclusion.