Iran seeks partners to bolster its Internet firewall, ramp up censorship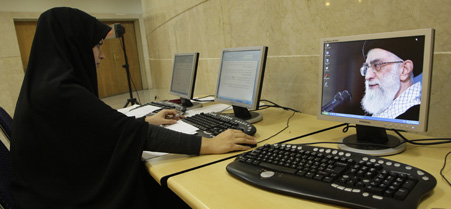 Vahid Salemi/AP
The research laboratory for Iran's Ministry of Information and Communications Technology is openly soliciting ideas for how to fortify its Internet firewall and is seeking partners to help the regime filter objectionable content.
The agency develops technologies to block web content and procures filtering tools from abroad. It is inviting companies and research organizations to describe censorship software they have created, showcase their experience in operating foreign filtering tools, and "suggest frameworks for cooperation," according to a request for information.
The solicitation was first translated into English from Farsi and reported by Ars Technica.
The public call comes as Iranian officials are rolling out a higher-bandwidth Internet system, which could require a more efficient method of monitoring the Web. At the same time, the deployment of surveillance technology by government regimes in Asia and the Middle East is coming under increasing scrutiny, unsettling the industry. Telecommunications equipment maker ZTE Corp. announced in March that it was cutting back business in Iran after a controversial sale of surveillance equipment was reported in the news. These disruptions are happening just as Western governments are tightening economic sanctions against Iran.
"One would assume the Iranian government has a list of preferred vendors they would turn to for surveillance technology," said Collin Anderson, a security researcher specializing in Iran who discovered the RFI, "but if it is soliciting partners in an open fashion, this could indicate it's not been able to manage the hardware acquired from vendors. There has been an attrition of vendors doing business with Iran [over] concerns [about] corporate and social responsibility."
U.S. law prohibits companies that supply Iran with technology deemed to be restricting the flow of information there from doing business with the federal government. The U.S. State Department has pumped millions of dollars into helping activists in the Middle East create circumvention tools and alternative networks to bypass the official Internet.
The Iranian request for information was posted on April 11 and closes on April 19.