Interior executives test iPads in bid to boost productivity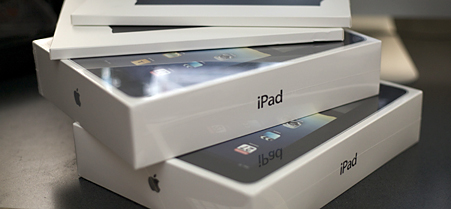 Flickr user twid
Several Interior Department agencies are buying small quantities of Apple iPads to evaluate whether the tablet computers boost efficiency, in a move that resembles the private sector's experimentation with corporate-issued iPads.
"We've done a limited pilot here at the Office of the Secretary" for staff who frequently travel or telework, said Andrew Jackson, deputy assistant secretary for technology, information and business services and one of the recipients of the popular device known for its virtual weightlessness, connectivity and portfolio of applications. "Where we see the biggest gains for productivity is out in the field." Interior's nine bureaus and five major offices make their own purchasing decisions.
Jackson estimates the price of an iPad, which retails for $499, plus ongoing service charges, is equivalent to one-third the cost of a typical government-issued laptop with Internet access. Furthermore, the tablet "is pretty much maintenance-free," he said.
The U.S. Geological Survey, an Interior agency that monitors the health of U.S. ecosystems, began trying out the devices last summer and now has about 1,000 on hand. On Saturday, the Bureau of Land Management issued a solicitation for iPads and other Apple information technology equipment, stating the tablet is "used in personal productivity and visual media." Jackson said the bureau plans to test its mapping capabilities. Meanwhile, the secretary's office, which distributed a few government-issued iPads around Labor Day 2010, is still debating whether making the machines more widely available would be cost-effective.
Assigning iPads to highly-valued staff in the executive suite, as well as employees gathering information offsite, corresponds with the way corporate enterprises have apportioned Apple's tablet among staff, said Ted Schadler, a principal analyst at Forrester Research who studies collaboration tools and team productivity.
"We're still very much in pilot mode," he said. "The value of the iPad is very, very high, but it doesn't replace a phone or a laptop."
Some company IT shops are holding the purse strings tight until competitors emerge, including PlayBook, a tablet made by Blackberry-manufacturer Research in Motion. The security controls may be stronger on the PlayBook than on the iPad, which is really just a big iPhone, Schadler said. Many federal chief information officers have been reluctant to provision iPhones because the security controls on the four-year-old device are not as mature as the safeguards, such as encryption, on BlackBerrys and laptops, he added.
"The PlayBook is going to have even better security than the iPad has," Schadler said. "CIOs everywhere -- in the federal government and private sector -- are very interested in that protection." At Interior, Jackson said he is satisfied with the security level of the iPad. Unlike many notebooks, the Apple devices can be wiped clean by IT administrators if lost, he said.
Another benefit: Unlike BlackBerrys or smart phones, iPad screens are big enough to display e-mail attachments, such as forms for reporting stream gauge data and water flows.
While some IT managers might be more inclined to buy PlayBooks, it could turn out that employees prefer iPads, Schadler said. "2011 is going to be a big experimentation year."
Recent college graduates, in particular, might favor iPads. For example, to accommodate the learning style of young recruits, the Army's Victory University training center in Fort Jackson, S.C., gives soldiers iPads to access online course materials and Kindle e-readers to store documents, according to university officials.
App developers already are trying to grab market share in the federal space. On Jan. 24, government software provider Accela Inc. debuted an iPad tool that pulls up charts depicting the status of agency operations, such as permit applications, inspections and service requests.
The cool factor also might be influencing decisions. After Jackson saw some geological survey executives walking around with the devices this summer, "I figured we need to get ahead of the eight ball," he said. Since deploying a few units last fall, he's had some staff say they'd like to keep their laptops instead, while others say, "Heck, with my laptop. I never want to see it again."
Jackson's favorite iPad feature is the screen. "Reading e-mail is so much easier on an iPad than it is on a BlackBerry," he said. "My e-mail is very hard to stay on top of. I'm in meetings 11 hours a day. To stay on top of e-mails, I have to multitask during meetings" by looking down at the display.
Schadler said that is a common sentiment among corporate users. At meetings, "you don't have to lug a binder of stuff around and it's unobtrusive. Now, does that make the iPad more productive -- or does it just improve satisfaction? It's probably all of the above."