Key lawmaker wants to limit full-body screening at airports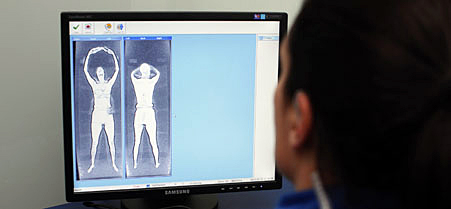 A key lawmaker wants to prohibit TSA from using advanced imaging technology in primary security screening.Brian Kersey/Newscom
A key lawmaker wants to prohibit the Transportation Security Administration from using full-body scanners for primary screening at airports, a congressional staff member said Thursday.
An aide to Rep. Jason Chaffetz, R-Utah, said the new chairman of the House Oversight Subcommittee on National Security, Homeland Defense and Foreign Operations, which oversees TSA, plans to reintroduce legislation similar to a 2010 House-passed bill that stalled in the Senate.
The aide made the comment during a forum convened by the privacy group the Electronic Privacy Information Center, which organized opponents of whole-body imaging, including Ralph Nader and Rep. Rush Holt, D-N.J., to speak out against TSA's use of the advanced imaging technology machines. TSA did not receive a formal invitation to the conference, agency officials said.
A Holt aide said his boss would be supportive of similar legislation. The measure that Chaffetz co-sponsored last Congress was an amendment to the Transportation Security Administration Authorization Act, H.R.2200. The legislation also would allow passengers to opt for a pat-down search instead of walking through a scanner, and it prohibits TSA from storing, sharing or copying any whole-body images.
TSA ramped up deployments of the AIT scanners following the 2009 Christmas Day attempted bombing of a Detroit-bound commercial aircraft by a man concealing explosives in his underwear. In July 2010, EPIC sued the government to halt installation of the machines, pending an independent review, arguing the program is illegal, invasive and not effective at stopping terrorists. EPIC amplified its protests this fall, when TSA began subjecting more passengers to AIT screening after security and intelligence personnel uncovered a Yemeni-hatched plot to bomb cargo aircraft traveling to the United States.
Holt, a physicist and former chairman of the House Select Intelligence Oversight Panel, is concerned that the screening poses health risks and questioned whether it was even effective. Specifically, he has cited research that most radiation from the X-ray machines strikes the top of the head, which is where basal cell cancer frequently occurs.
Troy D. Stock, counsel for Chaffetz, said the congressman wants to explore Holt's concerns through robust hearings.
Earlier at the event, Bruce Schneier, chief security technology officer of BT, the global telecom firm, cast doubt on whether AIT scanners have protected Americans from terrorists following the Sept. 11 attacks.
"Since 9/11 two things have made us safer: reinforcing the cockpit door and convincing passengers they need to fight back," Schneier said. "We saw that with the Christmas Day underwear bomber. ... pretty much everything else is security theater."
In response to the criticisms aired at the forum, TSA officials told Nextgov that the agency has been forthcoming about all aspects of advanced imaging technology, including stringent privacy protections, since it began piloting the tool in 2007. Currently, TSA is exploring additional privacy protections.
Congress required TSA to employ technologies that reduce threats to transportation. Agency officials maintain the AIT scanners are the best available means of safely screening passengers for metallic and nonmetallic threats, such as weapons, explosives and other objects hidden under layers of clothing.
"Advanced imaging technology led to the detection of over 130 prohibited, illegal or dangerous items at security checkpoints nationwide in 2010," TSA officials said in a statement.