Internal Air Force report: New drone 'not operationally effective'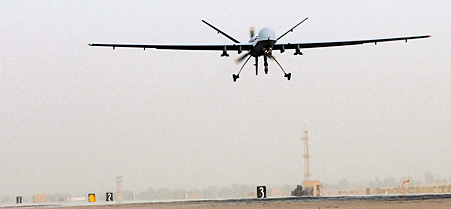 The Air Force wants to equip MQ-9 Reaper drones with the Gorgon Stare sensor.Air Force
Earlier this month, The Washington Post ran a front-page article heralding a "revolutionary" Air Force surveillance system called "Gorgon Stare." The newspaper said the aerial system was capable of transmitting live video imagery of all the people and vehicles moving across an entire town. A two-star general said Gorgon Stare would allow the U.S. military to "see everything."
But it appears that the system isn't actually ready for the big leagues. A scathing internal report prepared by the Air Force personnel charged with actually testing Gorgon Stare said the system had so many problems it shouldn't be deployed to Afghanistan until they were all fixed.
The report, obtained by defense analyst Winslow Wheeler, identified 13 technological shortfalls and said Gorgon Stare was "not operationally effective" or "operationally suitable." The report found that in many cases, the imagery captured by Gorgon Stare was actually of significantly lower quality than the video captured by the drones already in use in Afghanistan.
The Air Force report's concluding recommendation couldn't be blunter: "DO NOT field GS weapons system" until seven serious problems are fixed.
In a written statement, the Air Force defended Gorgon Stare and said the leaked document was a draft memo that was revised in January to reflect three problem areas it was in the process of fixing.
"We're working all three issues and do not believe they will affect the deployment schedule," the Air Force said in the statement. "Gorgon Stare will not be fielded until the theater commander accepts it."
The internal report comes as a blow to the Air Force, which has been struggling to demonstrate its continued relevance while the military is embroiled in a pair of manpower-intensive ground wars in which Army and Marine personnel are doing the vast bulk of the fighting and dying.
The Air Force has also suffered a string of high-profile embarrassments at home. In August 2007, a B-52 bomber flew from North Dakota to Louisiana with nuclear-tipped missiles under its wings without anyone realizing the weapons were missing. The following spring, the Air Force mistakenly shipped nuclear missile parts to Taiwan, prompting a furious Defense Secretary Robert Gates to fire Air Force Secretary Michael Wynne and Air Force Chief of Staff Gen. T. Michael Moseley.
Chastened, the service's new leadership has worked hard to play an effective support role in Iraq and Afghanistan, with its aircraft conducting surveillance missions, bombing insurgent positions, and helping to ferry personnel and troops into and out of the two countries.
The Air Force has also bowed to Gates's mandate that the service more fully embrace unmanned aerial drones, which are vitally important to the counterinsurgency fight in both countries. Gorgon Stare, which is in many ways a super-drone, was supposed to be the Air Force's newest and most advanced contribution to the war effort.
The system takes its name from Greek mythology, where Medusa and her two sisters could turn anyone who looked at their unblinking stare into stone. A "wide-area airborne surveillance system," Gorgon Stare consists of nine video cameras attached to a pair of pods on the underside of a Reaper drone. Air Force personnel have said it could transmit up to 65 separate streams of imagery to 65 different users on the ground; most drones can only shoot video from a single camera.
The system's biggest selling point was its supposed ability to simultaneously track the movement of all the people, cars, and other vehicles in a given town.
"Gorgon Stare will be looking at a whole city, so there will be no way for the adversary to know what we're looking at, and we can see everything," Maj. Gen. James O. Poss, the Air Force's assistant deputy chief of staff for intelligence, surveillance, and reconnaissance, told the Post for its January 2 article.
But when the 53rd Wing of the Air Combat Command at Eglin Air Force Base tested Gorgon Stare in an "operational utility evaluation," it found the system couldn't track people, and in some cases could barely track vehicles or trucks. Ground personnel looking to use the system in real-time were likely to be disappointed, the report found, because the image quality was "marginally sufficient to track vehicles" and "not sufficient to track dismounts."
Indeed, the report suggested that Gorgon Stare actually provided lower-quality imagery than what users in the field are currently receiving from Predator and Reaper drones.
"Image quality does not support mission sets commonly used by RVT [remote video terminal] users," the report found.
In his own write-up, Wheeler, the defense analyst, said Pentagon budget data shows that more than $500 million was spent on Gorgon Stare and related research and development activities between fiscal 2009 and 2011. The service asked for $152 million more for fiscal 2012. Wheeler noted that the service is already working on a next-generation model with more advanced cameras and sensors.
"The cost--whatever it may actually be--will clearly grow," Wheeler wrote.
The leaked report is available here.