White House wants to hear from nanotechnology experts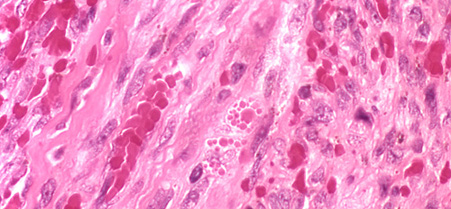 Nanotechnology may be able to help treat diseases on a cellular level.Centers for Disease Control and Prevention
The Obama administration on Tuesday began soliciting feedback on a new strategy for agencies to help revolutionize industry through the use of nanotechnology.
The White House Office of Science and Technology Policy issued a request for information from industry, academia and other stakeholders on specific approaches that will be published in a December strategic plan.
In the document, officials posed questions based on the last national plan -- developed in 2007 -- about future research priorities, funding, coordination, partnerships, evaluations and policy.
Separately, OSTP expects to host an online dialogue from July 13 through Aug. 15 to gather feedback more informally. A public workshop in Arlington, Va., July 13-14, will offer the same opportunity for those who want to comment in person.
The George W. Bush administration established the National Nanotechnology Initiative in 2001 to align governmentwide research and development in support of the emerging discipline, which is anticipated to affect every sector of the economy. Nanotechnology is the practice of controlling matter at the atomic or molecular levels.
Tuesday's solicitation asks what actions are necessary to achieve the 2007 goals, which were a world-class nanotechnology research and development program, commercial production of new nanomaterials, a skilled nanotechnology workforce, and an understanding of the health and environmental risks related to nanotechnology.
For the goal of transferring research into the commercial marketplace, the RFI offers the example of having agencies launch government-industry-university partnerships patterned after the Nanoelectronics Research Initiative. The 2007 plan cites NRI as an industry-led consortium striving to invent nanotech-based computing parts that will replace existing semiconductor technology.
The federal agencies involved in NNI already have decided to focus research in 2011 on applications for nanoelectronics, solar power and sustainable nanomanufacturing.
President Obama has cast nanotechnology as a job creator -- and prioritized advancement of the field in an innovation agenda he released last year. To lay the foundation for future industries that are expected to arise from the convergence of biotechnology, IT and nanotechnology, the president's fiscal 2011 budget increases agency spending on research and development for the three domains. Experts predict the union of the three technologies could, for example, lead to jobs and industries built around delivering drugs precisely to the desired human tissue.
Responses to the RFI are due on Aug.15.