Pentagon orders system to track soldiers for brain injuries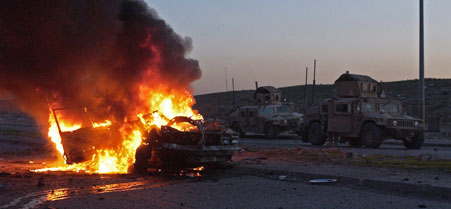 Shocks from improvised bombs cause brain injuries, the invisible wound of the wars Iraq and Afghanistan.Defense Department
Deputy Secretary of Defense William Lynn III issued a memo on Monday calling for the Defense Department to develop systems that would track soldiers who experience concussions on the battlefield and match them to specific events in combat in an effort to better treat them, a shortcoming that the department had been sharply criticized for not resolving.
Lynn's memo, which was posted on Defense's secret Internet website and provided to Nextgov, said it is now department policy to "identify, track and ensure the appropriate protection of service members exposed to concussive events, including blast events, to the maximum extent possible."
Brain injuries, many of which are difficult to diagnose because they are caused by a concussive event such as a blast from an improvised electronic device, are one of the most common battlefield wounds in Iraq and Afghanistan. Lt. Gen. Eric Schoomaker, Army surgeon general, repeatedly has described blasts from improvised bombs as the signature weapon of the wars in Afghanistan and Iraq.
Air Force Col. Michael Jaffee, director of the Defense and Veterans Brain Injury Center, said in April that Defense planned to create a single database that would merge information about specific operations on the battlefield with medical data. By matching the data, physicians could better identify soldiers who might be suffering from brain injuries, a diagnosis that has not always been properly made, critics say. The memo is the first indication that Defense is trying to better identify soldiers with brain injuries and immediately treat them.
The memo, "Policy Guidance for Management of Concussive/Mild Traumatic Brain Injury in a Deployed Setting," calls on the Defense Centers of Excellence for Psychological Health and Traumatic Brain Injury to conduct "comprehensive, retrospective analyses of relevant event-triggered data" and to develop summaries of specific monitoring of blast events.
TBI reporting in Afghanistan is managed primarily on paper. Injured soldiers fill out the Military Acute Concussion Evaluation form, which is supposed to be scanned into their electronic health record, a digital file stored in a database in the United States, said a source familiar with process who asked not to be identified. The source estimated Defense has yet to scan more than 400,000 forms.
Clinical practice guidelines for TBI included with the memo provide steps a field medic or corpsmen should follow when faced with a soldier suffering from a possible concussion and using a telephonic or telemedicine system staffed by a trained clinician. But the guidance ignores the reality of operations in Afghanistan, where forward units operate in areas that have little or no bandwidth, which these communications systems require to work properly, another source, who asked not to be identified, told Nextgov.
It is essential to develop a database that correlates operational reports from troops with blast events such as the detonation of an IED because the effects on the brain from the shock of the explosion might not become apparent for days or weeks, said Michael Dabbs, president of the Brain Injury Association of Michigan in Brighton, which works extensively with veterans.
Such information also is critical for treating troops after they leave active duty and seek treatment from the Veterans Affairs Department for possible TBI. "VA needs to know what troops have been exposed to," Dabbs said.
The new policy does not require Defense to develop a database that stores cognitive baselines for troops before they deploy. This would help clinicians identify possible brain injuries because they could compare that information to results of tests after a soldier is injured, said Michelle LaPlaca, an associate professor in the Biomedical Engineering Department at the Georgia Institute of Technology.
If it's not possible to measure soldiers' cognitive abilities before entering service, LaPlaca said Defense should develop a normative baseline such as that used for blood pressure, in which an individual's blood pressure reading is assessed against the norm for his or her age group. She added Defense could deploy small, easy-to-use computers to perform neuropsychological assessments in the field.
In his memo Lynn said Defense clinicians have "a variety of neurobehavioral tools" to conduct TBI assessments and added, "No one tool is recommended over the other." Until this week, Defense favored the Automated Neuropsychological Assessment Metric test.
Lynn also mandated troops who are exposed to a blast in combat take time off. He called for 24 hours of rest after the first blast injury, seven days after the second and a prohibition against a return to duty after the third until completion of a recurrent examination for a possible concussion.