Army wants to build a massive virtual world to train soldiers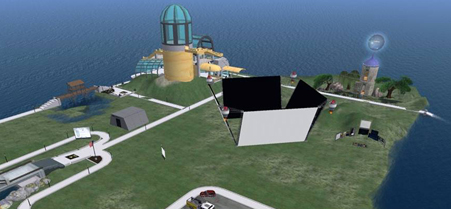 The Army could replicate areas where it conducts both peacekeeping and military operations.United States Army Simulation and Training Technology Center
The Army wants to develop a massive virtual world populated by 10,000 avatars that are managed by artificial intelligence and operate over a 32-mile square simulated landscape.
Officials at the Army Research, Development and Engineering Command's Simulation and Technology Training Center said they want a systems integrator to put together a virtual world that includes soldiers, vehicles and weapons that can move around a landscape built from Defense Department digital terrain elevation data.
The Simulation and Technology Training Center also said in its request for information that it wants to incorporate technologies used in massively multiplayer online games and offer classified and unclassified versions.
The Army is looking for the contractor to create avatars that have the same kind of Web 2.0 communications found in the real world, including chat, instant messaging and links to smart phones.
Based on the requirements, the Army is likely to choose a closed world open only to its personnel, and not a public world such as Second Life, which is open to everyone, said Dan Frank, managing partner for Three Wire Systems , a virtual world developer in Vienna, Va., which placed first in this year's Federal Virtual World Challenge.
While the Army did not clearly define what kind of operations it planned to conduct in the virtual world, Frank said the proposal indicated it would replicate operations in areas such as Kandahar, Afghanistan, where the service emphasizes peacekeeping missions as well as traditional military operations.
The requirement for the use of massively multiplayer online game technology also indicates the Army might want to replicate Microsoft's Xbox Live experience, where thousands of players worldwide vie against each other inside a virtual world. The service wants avatars to be able to handle thousands of simultaneous connections.
The Army is following the lead of the Air Force, which set up MyBase in Second Life in February 2008, said Jacque Davison, president of Davison Associates and a retired Army helicopter pilot who has nearly three decades of experience in the construction of 3-D objects and virtual worlds. Davison Associates is a virtual world company that placed third in the Federal Virtual Worlds Challenge.
Gen. William Loomey III, commander of the Air Education and Training Command, said in a white paper that MyBase will cater to cyber savvy young airmen "who have been living in a digital world their entire lives and are better prepared than any other generation to operate in this environment. It is imperative that we understand their needs and expectations, and develop an enterprisewide system that fosters learning and captures their most critical asset -- knowledge."
Davison said he believes all the military services eventually will set up cradle-to-grave virtual worlds that will start with recruitment, provide knowledge management during active duty, and then keep retirees connected when they leave a service.
The Army did not answer questions on the RFI by deadline. Responses are due June 23.