Army: System to guide battlefield robots passes test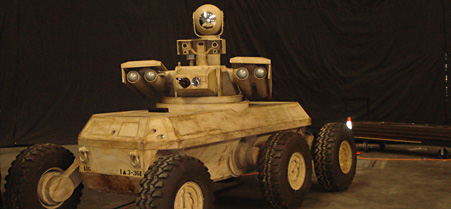 The system will process data from sensors to steer robots like this 2.5-ton unmanned vehicle.Army
The Army successfully completed a critical design review of an autonomous navigation system powered by a supercomputer that can react much like a human does in analyzing surroundings, and plans to use the tool in the next generation of armed robotic vehicles, a program official said on Wednesday.
The system is one of the few surviving remnants of the Army's ambitious $160 Future Combat Systems that was supposed to field smart, networked vehicles, but last year Defense Secretary Robert Gates canceled the manned ground vehicles portion of the program which was the foundation of FCS.
The advanced navigation system applies doctoral-level smarts to guiding a robotic vehicle on a battlefield, said Lt. Col. Jay Ferreira, program manager for the Unmanned Vehicles Integration Office for the Army's Brigade Combat Team Modernization project, said during a press briefing.
Inputs to the navigation system include three cameras mounted on a vehicle that can see in day or night as well as two radar systems. It also features GPS and inertial navigation systems to determine the vehicle's precise location. Information from the sensors and cameras is fed into a five-board supercomputer that crunches the data at a rate of trillions of floating point operations per second, said Larry Hennebeck, program manager for the automated navigation system.
Ferreira said portions of the smart navigation system have been tested on current Army vehicles such as the Stryker and Light Medium Tactical Vehicle. The service still must conduct more tests and develop a budget before the system is placed in the field on an assault vehicle
in 2012.