Establishing telecommunications systems tops feds' to-do list for Haiti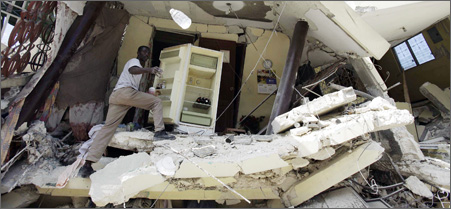 In the wake of the devastating earthquake, President Obama said aid to that country is the top priority of agencies.Julie Jacobson/AP
President Barack Obama said on Thursday that aid to Haiti, in the wake of that country's devastating earthquake, is the top priority of every federal agency, with re-establishing telecommunications in the country as the first order of business.
The Defense Department is mounting a massive response, including the dispatch of the hospital ship Comfort to the Caribbean nation, along with three amphibious ships and 2,000 Marines from Camp Lejeune, N.C.
"Right now in Haiti, roads are impassible, the main port is damaged and communications are just beginning to come online, and aftershocks continue," Obama said. "None of this will seem quick enough, but it's important that everyone in Haiti understand that one of the largest relief efforts in our recent history is moving toward Haiti."
Air Force Gen. Douglas Fraser, head of the U.S. Southern Command, said at a Pentagon press briefing on Wednesday that the first priority in providing aid to Haiti was "getting command and control and communications there so that we can really get a better understanding of what's going on."
Some of the first personnel deployed to Haiti included communications specialists from the 1st Special Operations Communications Squadron based at Hulbert Field, Fla., according to the Air Force Special Operations Command.
Lt. Col. Michael Anderson, commander of that squadron, told Nextgov that a small communications system was on the first C-130 aircraft sent to Haiti on Wednesday, and it supplied connectivity within minutes of being unpacked. "This provided the commander and his small staff to communicate worldwide in order to begin support operations," he said.
The squadron also set up a satellite dish to provide more capabilities, including networked computers to support more than a dozen task force personnel, Anderson said. Additional systems are being installed to support a larger tasked force.
The Marines, deploying on the amphibious ships USS Bataan, Carter Hall and Fort McHenry, will bring "tremendous command-and-control communications capability to Haiti," said Capt. Clark Carpenter, spokesman for the Camp Lejeune-based 22nd Marine Expeditionary Unit.
This includes the sophisticated communications suite, which is aboard the Bataan, as well as the Marine's Joint Task Force Enabler, a satellite-equipped communications system that can handle both classified and unclassified communications, Carpenter said.
The Air Force 12th Reconnaissance Squadron at Beale Air Force Base launched an unmanned Global Hawk aerial vehicle to collect imagery of Haiti at the request of the Southern Command. The UAV, a high-altitude, long-endurance aircraft, is equipped with an integrated sensor suite and includes infrared sensors.
Lt. Col. Mark Lozier, operations officer with the squadron, said the imagery will show what regions of Haiti were hit hardest by the earthquake and will help the Air Force determine what airfields in Haiti were not damaged by the earthquake.
"One of the ideal aspects of the Global Hawk for this purpose is its high-altitude," Lozier said. "We can stay airborne 27 to 28 hours. We will be using most of that time to stay on station over in Haiti during most of the daylight hours to image everything that we can with the highest fidelity."
This is not the first time the Global Hawk has been used to assist in a humanitarian crisis. In 2007, the UAV's imagery was used to assist California firefighters battling blazes in Southern California.
The Comfort, whose home part is Baltimore, is slated to depart for Haiti this weekend and has a broadband satellite communications system and multiple computers to support, among other things, imaging and X-ray systems. The ship has 1,000 patient beds, as well as medical labs and X-ray machines.
The World Food Programme, a United Nations agency based in Rome, has set up a relief operation to feed 2 million earthquake victims and dispatched a two-person communications team on Wednesday to establish communications systems for humanitarian operations, according to Dane Novarlic, head of the program's fast information technology and telecommunications emergency and support team.
Dane said he brought two fly-away communications kits to Haiti, which include laptop computers, satellite phones and VHF radios, to set up two WFP offices. The program's communications team in Sudan is on standby to fly in satellite communication systems.
Anderson emphasized the importance of communications to the Haiti operation. "If you can't communicate, you are just camping," he said. "Operations such as this are too important not to have the command, control and communications ability vital to success."