Google, Microsoft executives criticize Obama's e-health records plan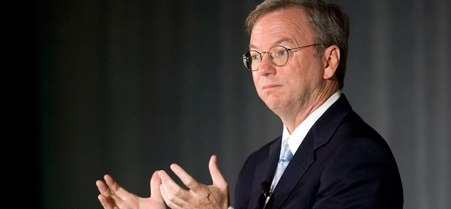 Google CEO Eric Schmidt says patients should have access to their records in a national health network.Newscom
Top executives at Google and Microsoft sharply questioned the structure of the Obama administration's $20 billion health information technology plan at a meeting of a presidential technology council on Thursday.
Eric Schmidt, chairman and chief executive officer of Google, told top health technology officials at a meeting of the President's Council of Advisors on Science and Technology that the current national health IT system planned by the administration will result in hospitals and doctors using an outdated system of databases in what is becoming an increasingly Web-focused world. The approach will stifle innovation, he said, and ensures medical professionals continue to use existing outmoded medical databases, many of which are copyrighted and cannot be duplicated.
The federal government is encouraging the development of a national system of electronic medical records to improve health care and to cut costs. David Blumenthal, national coordinator for health information technology, is overseeing the network, which was bolstered by spending allocated in the American Recovery and Investment Act.
Administration officials attending the meeting included Blumenthal; Aneesh Chopra, the administration's chief technology officer; and John Glaser, previously the CIO at the Boston regional hospital group Partners Health and a Blumenthal adviser.
Google and Microsoft have developed Web-based personal health record software products, called Google Health and Microsoft HealthVault.
Schmidt told the council that, like the Google and Microsoft applications, the national health IT system should be based on Web records that patients can control.
In addition, current electronic health record systems are proprietary and don't interoperate, said Richard Levin, president of Yale University. "What is out there is not very good," he said. "The reality is dismal."
In his opening remarks at the meeting, Blumenthal said he wanted to encourage innovation in the development of the national health records system, but he sidestepped Schmidt's questions on allowing patients to access and control their own records. He said his office is working on plans that will allow certain kinds of communications with personal health records, but he did not elaborate.
Chopra then said patients will receive summaries of their records.
Schmidt tersely responded, "Giving me a summary ... is not the same thing as giving me the record."
The Madigan Army Medical Center in Tacoma, Wash., recently completed a test in which 308 patients were given access to their medical records stored in the Defense Department's AHLTA electronic health record system using Google Health and Microsoft HealthVault. The center estimated that allowing patient access to their health records reduced the workloads on clinicians and could save the Military Health System $4 million a year in postage if patients could instead access lab results online.
The administration also should focus more on how to manage medical data -- including metadata to locate key pieces of information quickly -- rather than on the specifics of the electronic health records, said Craig Mundie, chief research and strategy officer at Microsoft.
Blumenthal said Mundie's approach would not work because funding in the stimulus law is pegged to the adoption and use of electronic health records, not to management of data by clinicians.
He emphasized the importance of ensuring patient privacy in a national health system and said unless there is a guarantee of privacy a national electronic health record system "will not happen." But Blumenthal did not provide details.
Glaser agreed, and said for any health IT plan to work "we must preserve the trust of the patient."