Feds coordinate Web communications to fight swine flu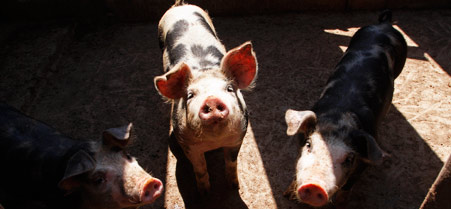 The strain of swine, human and bird influenza has proven deadly in Mexico and sickened people in the U.S.Marco Ugarte/AP
The Centers for Disease Control and Prevention, the Homeland Security Department and the World Health Organization have coordinated their Web-based communications on the swine flu outbreak to ensure uniformity across platforms, say homeland security professionals and federal officials.
"From what I've been monitoring, there's been a fairly consistent message among the various agencies . . . as well as some of the more responsible outside ones," said W. David Stephenson, a crisis management theorist who specializes in Internet-based response strategies.
An example of a nongovernmental site following the outbreak is a regularly updated map of flu cases in the United States and Mexico, he said, which is maintained by a Google maps user listed on the site as a biomedical researcher in Pittsburgh. The page pinpoints suspected illnesses, confirmed incidents of the flu and deaths.
If quarantines become necessary, Stephenson suggests the government develop an interactive site with video hosted by CDC to help citizens self-diagnose and report illnesses.
"Obviously, it would have to be confidential, particularly if this is a replay of 1918 [the date of one of history's worst flu pandemics]," he said. "The government could play a very substantial role in documenting the number of cases and not just waiting" for hospital centers.
CDC has issued guidance on the flu investigation daily since April 21, with the exception of Wednesday. The CDC and DHS sites on Monday cited details on swine flu outbreaks in the United States, international information and advice on preventing sickness. WHO also operates a site that provides information on the disease.
"Yesterday we issued on the Web site refined guidance on what communities can do" to best respond to the threat, said CDC acting Director Richard Besser. Recommendations include how to carry out school closures should cases of infection be identified.
Besser said the lack of an HHS secretary "has not led to diminished activity in our department on approaching this problem."
But he added, "I have to be honest -- the economic realities have been hard on state and local public health. We have an outstanding public health system, but it is a tough situation."
Michael Greenberger, director of the Center for Health and Homeland Security at the University of Maryland, said the CDC, DHS and WHO have done a good job of collecting and sharing information with the public. "I think it happened so fast in Mexico," the suspected source of the outbreak," he said. "They walk a fine line between cautious [concern] and not setting off a panic. I think there's a danger of getting out ahead of this before you have the data points collected. These things mutate, so you never know."
CDC officials report 40 confirmed flu cases in the United States, including New York, Ohio, Kansas, Texas and California. Of those incidences, only two have required hospitalization. The median age of affected individuals is 16.